Touro College Graduate School of Social Work Takes Part in Tenth Annual 'HOPE' Survey
Date: February 11, 2015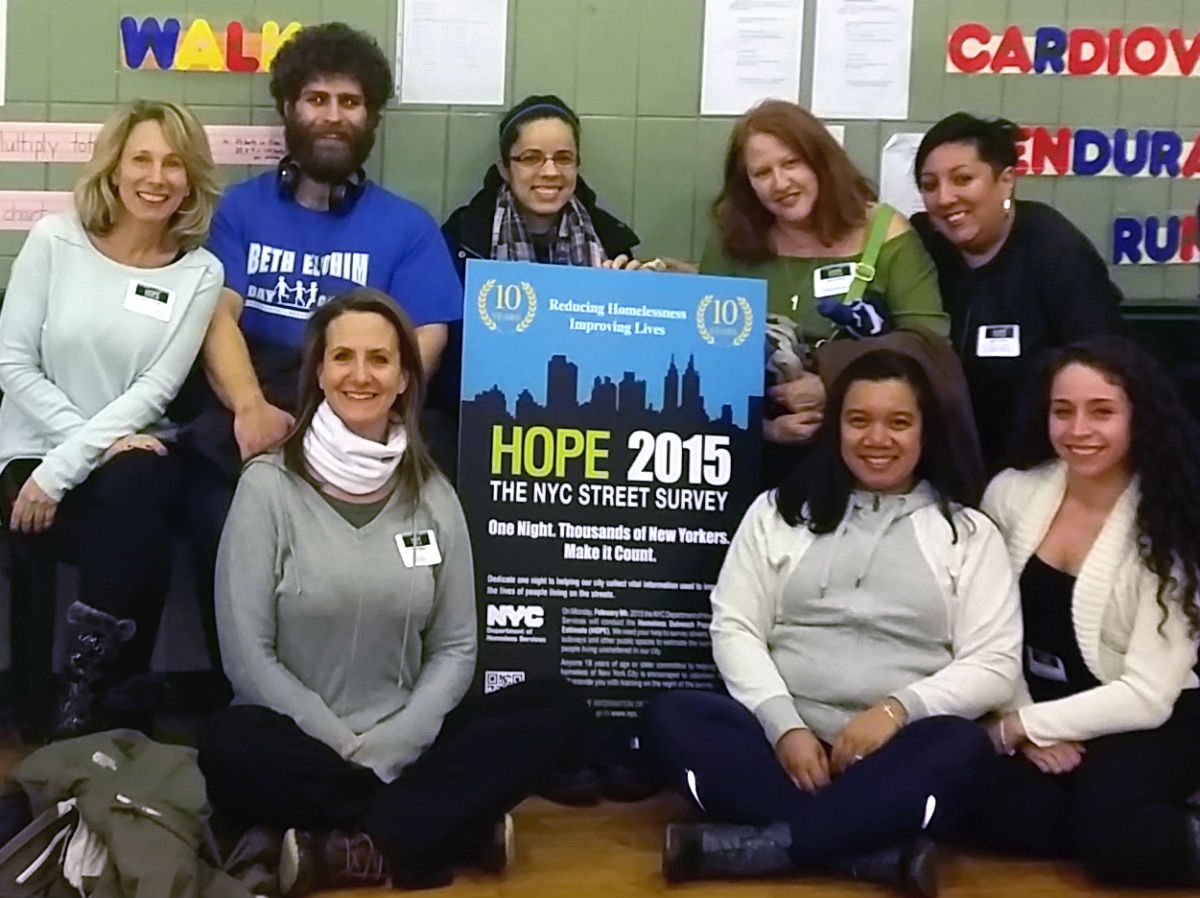 Students, faculty, staff and alumni in Penn Station before going out for the "HOPE" survey.
New York, N.Y. – Students, faculty, administrators and support staff from the Touro College Graduate School of Social Work braved freezing temperatures from midnight until the wee hours of the morning Monday to help New York City with its annual count of the numbers of homeless living on the streets, and offering to take them to shelters.
The evening marked the sixth consecutive year the graduate school participated in the event, which draws thousands of volunteers from throughout the city to canvass parks, subways and other public spaces as part of the New York City Department of Homeless Services (DHS) Homeless Outreach Population Estimate (HOPE).
"Participating in HOPE is aligned with Touro's mission of Tikkun Olam," said Professor Elhanan Marvit, MSW, LCSW, director of the Brooklyn Learning Site and administrative services at the graduate school. "It also raises our consciousness to the issues surrounding homelessness, and, as the city has noted, HOPE is critical to helping evaluate strategies to overcome street homelessness as well as appropriate housing resources for the most vulnerable New Yorkers living without shelter."
Added MSW student Georgia Bancooten, "Participating in the annual HOPE 2015 count is about giving back to our community. I pass a young man with a cardboard sign and coffee cup asking for money and assistance everyday outside our campus. This was our night to make an impact for the homeless in our city."
Touro College's Graduate School of Social Work's Master of Social Work program trains clinical social work practitioners who assist individuals, families and communities in meeting their own needs and enhancing their well-being. The program meets all academic requirements for both social work licenses: LMSW (Licensed Master Social Worker) and LCSW (Licensed Clinical Social Worker).
About the Touro College and University System
Touro is a system of Jewish-sponsored non-profit institutions of higher and professional education. Touro College was chartered in 1970 primarily to enrich the Jewish heritage, and to serve the larger American community. Approximately 19,000 students are currently enrolled in its various schools and divisions. Touro College has branch campuses, locations and instructional sites in the New York area, as well as branch campuses and programs in Berlin, Jerusalem, Moscow, Paris and Florida. Touro University California and its Nevada branch campus, as well as Touro College Los Angeles, Touro University Worldwide and New York Medical College, are separately accredited institutions within the Touro College and University System. For further information on Touro College, please go to: http://www.touro.edu/media/.