A Rising Star at Touro College Graduate School of Social Work
James Hernandez Reflects on Being Honored by the Hispanic Coalition of NY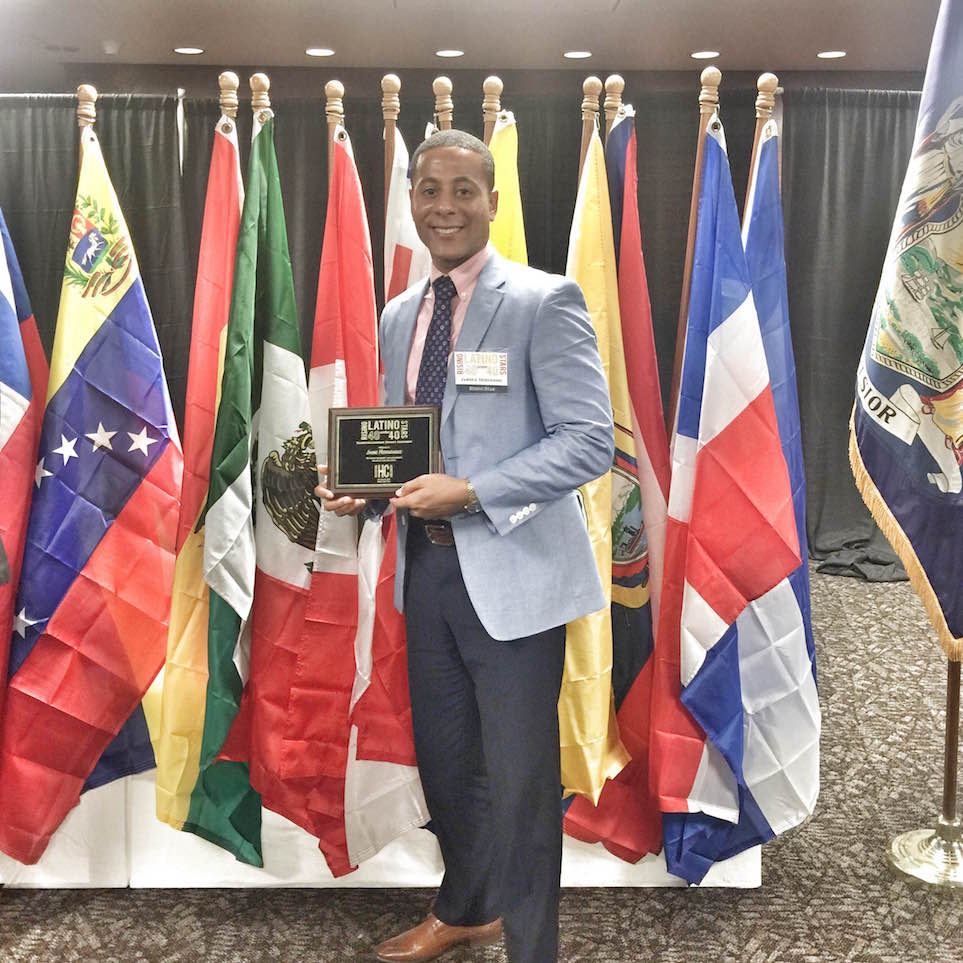 James Hernandez receiving his award from the Hispanic Coalition of New York.
On October 15, Touro College Graduate School of Social Work (GSSW) student James Hernandez was recognized for his years of service to his neighbors with the Rising Latino Star Award.
The annual award is given to forty men and women under forty by the Hispanic Coalition of NY, a group of Hispanic business and social leaders. Awardees are chosen based on the service and dedication to their communities.
Hernandez said he was gratified by the recognition and remarked on his unlikely journey towards it. Growing up in the South Bronx, his neighborhood was rife with drugs and crime. At 17, he had a daughter with his high school girlfriend.
"A lot of people counted me out in my life but I was able to bounce back," he said, adding that having a daughter also made him take a more serious approach to his life, unlike some of his peers who drifted towards drugs.
While sharing responsibility for his daughter, Hernandez began college at John Jay University. He interned for a homeless shelter and left college when he received an offer for a full-time position as a housing specialist. Hernandez quickly discovered he had a knack for working with families in difficult situations.
"I was able to change countless families' lives by providing them with a sense of hope," he said. "I was able to assist them with a general understanding of the importance of developing a realistic exit strategy when they became homeless."
However, after seven years Hernandez realized he hit a career ceiling.
"Everywhere I went for jobs they wanted a college degree," he said. "I only had a high school diploma."
He enrolled in Mercy College and finished a BA in psychology. Looking to earn a post-graduate degree, Hernandez chose social work.
"I decided to become a social worker because I knew that support and guidance can be the greatest help in allowing someone to break away from the grasp of drugs and alcohol, not to mention other issues that people in our communities are faced with every single day," he said.
Hernandez looked at various graduate schools, but none could accommodate him while he continued to work and support himself and his family, that is until he discovered Touro's Graduate School of Social Work.
"I jumped into Touro," he explained. "A lot of times the only reason people go to school is for the degree; I wanted to go for the journey."
Determined to make the most out of his experience, Hernandez joined the National Association of Social Workers and continued working, though this time as a patient educator for Montefiore Hospital. Despite his school work and full-time job, he also continued his involvement with his community: helping out at food pantries, emailing legislators and joining Touro GSSW missions to Albany. At the last meeting, he met with aides to New York State Senator Ruben Diaz and spoke about Hernandez's latest project: repairing the fields and parks used by little league teams in the South Bronx. Hernandez has also met with Bronx Borough President Ruben Diaz Jr. about the project.
Dr. Steven Huberman, Dean of GSSW, stated that Hernandez's actions are the embodiment of Touro's ideals.
"We established the Touro College Graduate School of Social Work ten years ago," he said. "Our goals included having one of the most diverse schools of social work in the country and to build a strong relationship with the Latino community. James Hernandez exemplifies this emphasis. He is an outstanding Latino leader who has made a difference at Touro and in the community. He is among our best."
Hernandez's girlfriend and mother joined him at the ceremony in Albany.
"There are so many issues on the macro level that social workers can help with," explained Hernandez. "Being at Touro amplifies my confidence to deal with them."