Breaking the Cycle of Trauma
Graduate School of Social Work (GSSW) Alumna Esti Marcus, LCSW, Uses Her Touro Training to Help Others Heal
April 01, 2022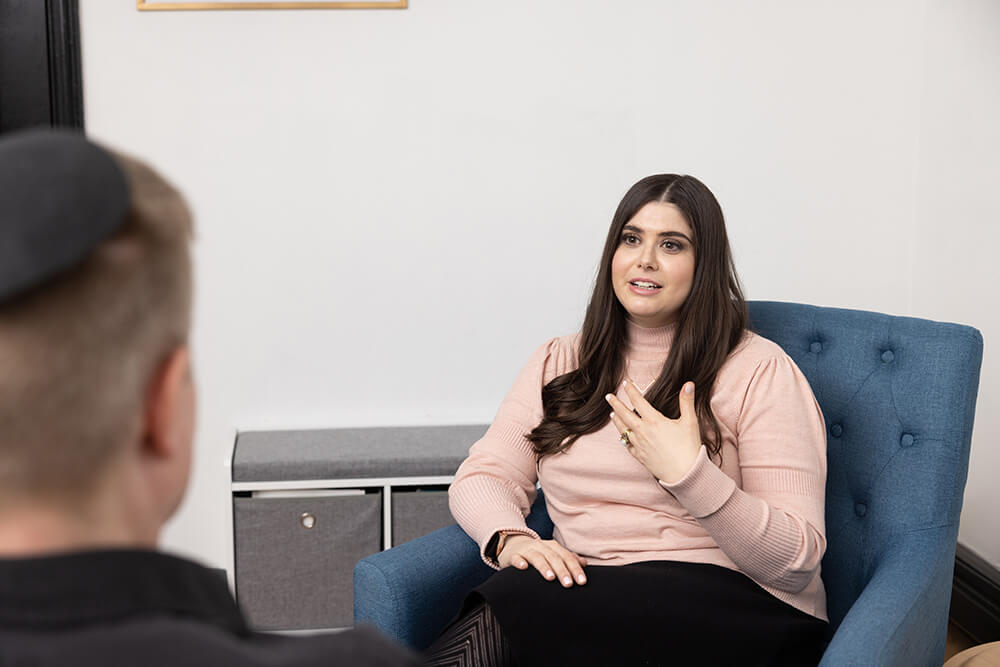 Touro social work alumna Esti Marcus works as a trauma therapist
Touro GSSW alumna Esti Marcus, LCSW, talks about her gratifying career as a social worker, shares essential advice for future therapists interested in the field, and explains how Touro prepared her for professional success.
Why did you choose social work as your career?
I have always felt attuned to other people's thoughts and feelings and have been fascinated in general with analyzing patterns and behaviors. I have felt a deep curiosity to understand people and what motivates them and without understanding why exactly, I knew it felt good to offer support and perspective to people who are struggling. That's what drew me to the field of psychotherapy. What drew me to social work specifically was the broader perspective it offers in examining how a person interacts with their environment and as part of a larger social system, which impacts their specific world and functioning.
In what area of social work do you specialize? What population do you work with and is there a particular type of therapy that is best suited for them?
I specialize in trauma, specifically relational trauma, and was drawn to that specialty when I realized the most common theme I encountered across the spectrum of clients I worked with was how individuals and families suffer from the long-term impact of trauma. In my post-graduate training, I studied trauma and learned that it is a disorder of the nervous system and therefore is best treated through healing the nervous system. I have, therefore, trained in Somatic Experiencing, Sensorimotor Psychotherapy and Internal Family Systems, as well as mindfulness and attachment-based modalities, using an integrative approach when working with my clients. I think that regardless of the focus and specialty, a psychotherapist who is trauma-informed is equipped with an essential tool.
What do you like most about the field? What is most challenging?
I love the parallel process of working on myself alongside my clients. I find that the work comes in themes and often find that what is coming up in my clients' lives relates to what I'm working on in my own healing journey and this brings perspective and depth to the personal and professional work.
The most challenging would be how alert, conscientious and present I must be to do good work. Having good sleep, staying regulated and committing to my self-care routines become crucial parts of being effective and feeling good about my work.
Can you describe a day in the life on the job?
I usually start my day with some form of exercise or meditation and prayer to help support the work I will do that day. I then see clients back-to-back scheduled with 20-minute breaks in-between and interspersed with peer supervision groups and note taking.
Were there any experiences you had as a child or people in your life that led you to this career?
I grew up in Brooklyn, got my bachelor's in psychology and then master's in social work, both from Touro. I grew up, like many Jewish people, aware of the shadow of the Holocaust and its impact on my life and family. Even though it was my grandparents who survived Auschwitz, I was aware of how that framed the story of my parents' childhood and then mine and my siblings. That's what probably got me the most interested in trauma work—the drive to explore and understand the legacy of trauma and what breaking the cycle of that trauma entails.
What do you think is the most important trait mental health professionals need? What is the most critical skill to develop to become an effective social worker?
The most critical skill or trait for mental health professionals is the ability and desire to learn and grow. I remember in my very early days as a therapist, I was so concerned with "getting it right" that it was hard to acknowledge where I was making mistakes and what I could do to learn and grow. I also remember the exact moment when I made the choice to allow myself to not know everything and to be honest about where I was struggling. That opened the door to real learning and curiosity. The shift within myself became evident in the work. My favorite phrase has become, "I've reflected on what you said, and I've given it some more thought and I want to revisit something that came up in our last session."
What advice do you have for students interested in pursuing social work?
My advice is to consider why you want to go into the field and then immerse yourself in experiences that support that vision. Also, find a good therapist to work with and prioritize your own healing. A therapist is only as effective as their willingness to engage in their own healing journey.
Why did you choose Touro? What do you feel are the main benefits of the social work program? How did it prepare you for your career?
One of the reasons I chose Touro Graduate School of Social Work was because it was a new program at the time and was committed to building a reputation of excellent educational standards combined with a foundation of the Jewish value of Tikkun Olam, which deeply resonated with me.
Choosing a Jewish program that I knew would prioritize my Jewish observance needs without making me feel like an "other" or the exception, was also important to me. At the same time, Touro created a program that was diverse and enabled me to learn from other cultures and people from different backgrounds that was essential to my growth. It also helped add structure and basic skills that became the foundation of my social work practice. Touro also literally helped start my career when my second-year internship (which they facilitated) became my first social work job!