Learning by Doing
Touro University Social Work Students Advocate for Change in Albany on Profession's Annual "LEAD DAY"
March 15, 2023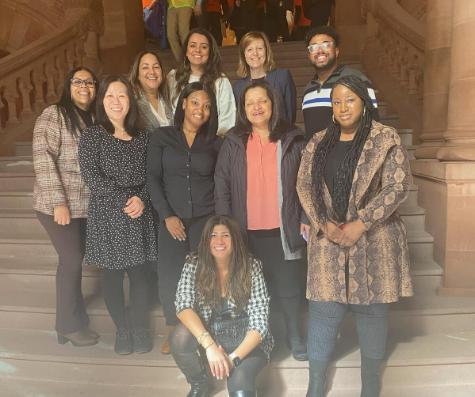 Social work students in Albany
March is Social Work Month, and for the first time in three years, students from the Touro University Graduate School of Social Work (GSSW) joined their peers and professionals throughout New York in Albany for social work's annual Legislation and Advocacy Day, known as "LEAD DAY".
A dozen GSSW students became part of the legislative process last week as they advocated for social policy legislation to protect clients' rights and further social work goals. They met with key legislators in the Assembly and Senate, and observed proceedings in the Assembly and Senate chambers to recognize Social Work Month.
"It felt great to be back in person," said Dr. Jennifer Zelnick, chair of the GSSW's social welfare and policy sequence, who organized and led the trip. "There is no virtual replacement for the sense of empowerment students feel as they navigate the impressive halls of the capitol and articulate their passions to elected officials."
Miranda Rights and Court Fees Taken Up
This year students advocated for the "Family Miranda Rights Act" (S.901/A.1980), which would ensure that families are informed of their Miranda rights at the onset of a child protective investigation, and the "Eliminate Predatory Court Fees Act" (S.313/A.4183), which would eliminate fees and fines that fall most heavily on the poor and communities of color.
Bill sponsors Senator Jabari Brisport (25th District, Brooklyn), Senator Julia Salazar (18th District, Brooklyn), and Assemblyman Kenny Burgos (85th District, Bronx) were on hand to motivate and educate students, along with Assemblywoman Chantal Jackson and Assemblyman Manny De Los Santos (72nd District, Northern Manhattan), both MSW-level social workers.
"Learning by Doing"
"LEAD was a great experience!" said GSSW student Frederick Marte. "As a MSW student, I was able to put into practice what I learned in my first and second semesters. I was no longer learning by reading or studying, but by doing!"
Teresa Lin, a MSW student graduating in June who works for VNS Health, said the day taught her how to advocate about issues she faces and how to work with key stakeholders. "The highlight was meeting with legislators and their representatives. I plan to continue to advocate for those in marginalized groups to address health inequalities in the underserved populations," she said.
According to Dr. Zelnick, students' perspectives on policymaking are changed by the annual visit to Albany – from that of a closed system to one that's dynamic and tangible.
"They learn that the voices of regular people can make a difference. This is why our policy program at Touro has, year after year, made the LEAD event a priority," Zelnick said. "LEAD Day is a life-changing experience that builds social worker commitment to the policy component of our practice, where we can make meaningful change, prevent harm, and promote healing."