National Association of Social Workers Honors Touro Professors
Leadership Awards Bestowed on Jennifer Zelnick and Tina Atherall at 10th Annual Dinner for Outstanding Work and Exemplary Contributions to Profession
December 19, 2016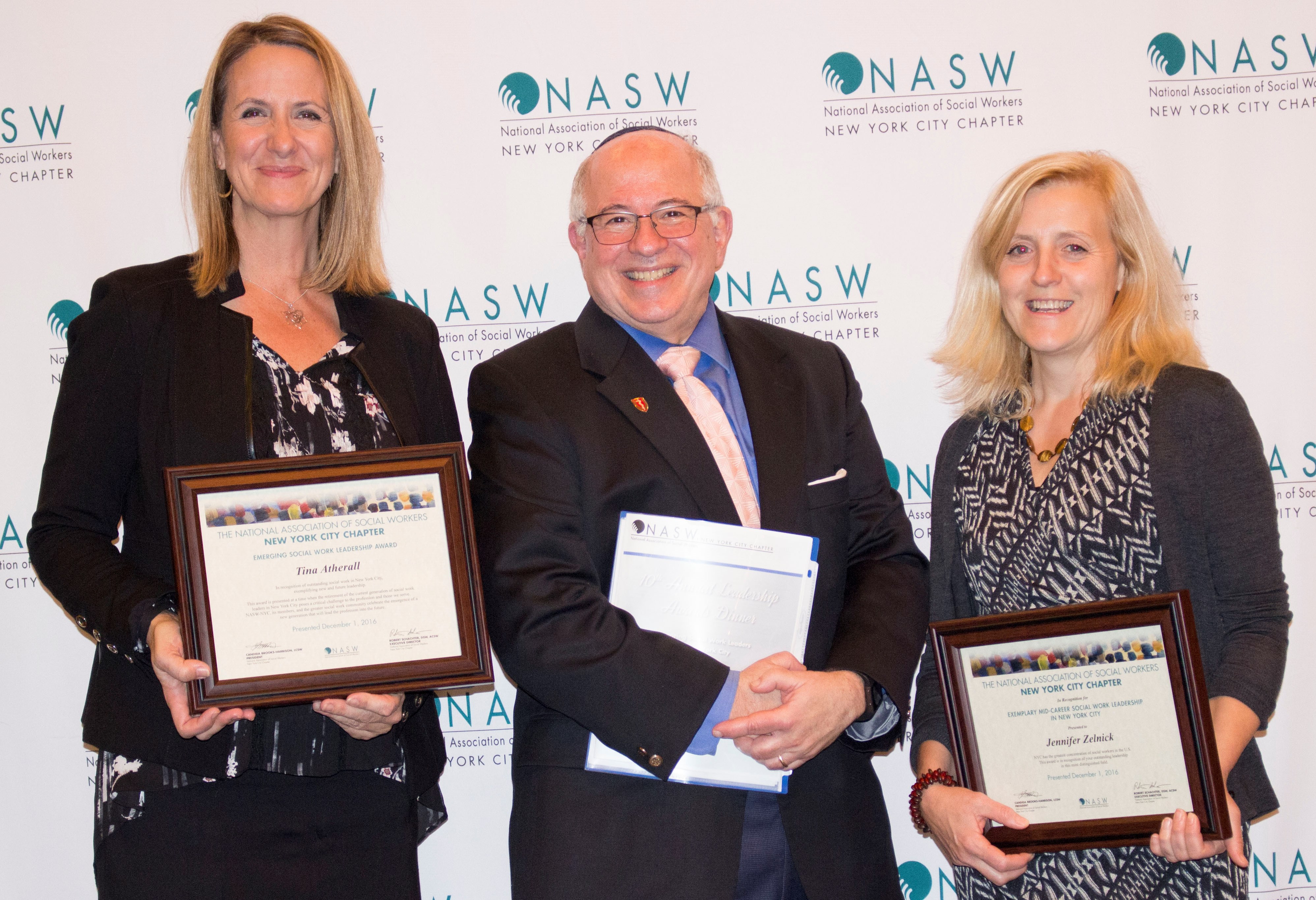 Tina Atherall, Dean Steven Huberman, Dr. Jennifer Zelnick
New York, N.Y. – Touro College Graduate School of Social Work (GSSW) faculty members Jennifer Zelnick, MSW, ScD, and Tina Atherall, LMSW, were honored with "Mid-Career" and "Emerging Leaders" awards at the 10th Annual Leadership Awards Dinner of the National Association of Social Workers-New York City Chapter (NASW-NYC) held recently.
The annual awards were presented before a packed crowd of over 500 this year including top executives from organizations, agencies, all seven schools of social work in NYC and leaders from various fields of practice. The awards recognize social workers who demonstrate exemplary leadership qualities and a unique commitment to the improvement of social and human conditions. This year's guest speaker was former social worker and Manhattan Borough President Ruth Messinger.
"Jennifer Zelnick and Tina Atherall embody two of the most important social work assets - professionalism and empathy," said Dr. Steven Huberman, dean of the Touro College Graduate School of Social Work. "Each week they tell me of their innovative projects. They care about their colleagues and students. Plenty of people are competent at what they do, but Tina and Jenn have that competence with empathy - a rare combination."
Ten-Year Commitment to Advocacy and Social Justice
In receiving the Mid-Career Leadership Award, Dr. Zelnick was honored for her commitment to community organizing and advocacy to improve social policies in health and social services.
As associate professor and chair of the Social Policy Sequence at the GSSW, Dr. Zelnick dedicates herself to engaging students from different backgrounds in learning about the political process, social justice, advocacy, and skills needed for leadership in social work. She has organized numerous events with students this past year, including legislative action days in Albany and Washington, D.C.; Social Work Day at the United Nations; and virtual Town Hall events with students at the University of Michigan's Flint campus on the city's water crisis.
"Dr. Zelnick prepares the students by making sure they are up to speed on key topics, fully versed in advocacy points and connects them to appropriate venues," said Nancy Gallina, Ph.D., MSW, senior associate dean and director of the MSW program. "She is well-respected by students, is considered a resource by her peers and is always available to explore the critical issues of our society."
Before entering academics, Dr. Zelnick worked with youth and families in community-based social services that addressed domestic violence, substance abuse and homelessness; worked as a community/union organizer; and served as the executive director of a non-profit organization dedicated to health care reform. She has taught social welfare policy, community organizing and research for more than 10 years. Her research focuses on the health and social service workplace and is geared towards useful input into policy development. Currently she is a co-investigator on a human service workforce study involving over 2,500 workers in the NYC metro area.
Leading with Inspiration, Caring, and a Positive Attitude
Tina Atherall, LMSW, director of social work career development and enrollment management, received the Emerging Leaders Award for embodying the values of the profession and inspiring GSSW students and colleagues with her humor and a positive attitude that seemingly never ends. "Even when she is overwhelmed or preoccupied, she finds time to listen [and] accomplish expected goals while maintaining relationships with competing parties," said Assistant Professor Folusho Otuyelu, LCSW, Ph.D.
Atherall, who also has advanced certificates in military family readiness, military social work and non-profit leadership, transitioned to Touro from the world of nonprofit organizations, where she was a leader for a military and Veteran's organization that worked with individuals and communities on education, advocacy and providing support for Veterans and their families. She has 21 years of experience in military family systems.
Added Dr. Otuyelu: "Tina embodies the values of the profession and is consistent about having social work values observed in action. She does this by displaying the value of service to her staff and incoming students. She emphasizes the importance of integrity and competence when providing academic advisement. Most importantly, Tina understands the importance of human relationships as noted in her relationships with everyone on staff at Touro."
Atherall is admired not only because of her dedication to Touro but also for her continued involvement in military social work as a leader and service provider. "It is rare to find a leader in such a position who not only serves but also inspires," Dr. Otuyelu said.
Media Contact
Barbara Franklin
Director of Communications
646-565-6530
barbara.franklin@touro.edu
About the Touro College and University System
Touro is a system of non-profit institutions of higher and professional education. Touro College was chartered in 1970 primarily to enrich the Jewish heritage, and to serve the larger American and global community. Approximately 18,000 students are currently enrolled in its various schools and divisions. Touro College has 30 campuses and locations in New York, California, Nevada, Berlin, Jerusalem and Moscow. New York Medical College; Touro University California and its Nevada branch campus; Touro University Worldwide and its Touro College Los Angeles division; as well as Hebrew Theological College in Skokie, Ill. are separately accredited institutions within the Touro College and University System. For further information on Touro College, please go to: www.touro.edu/news/