NEFESH Embraces Touro Social Work Students
Touro MSW Students Inspired while Networking and Learning with Orthodox Mental Health Professionals at 23rd Annual NEFESH International Conference
December 19, 2019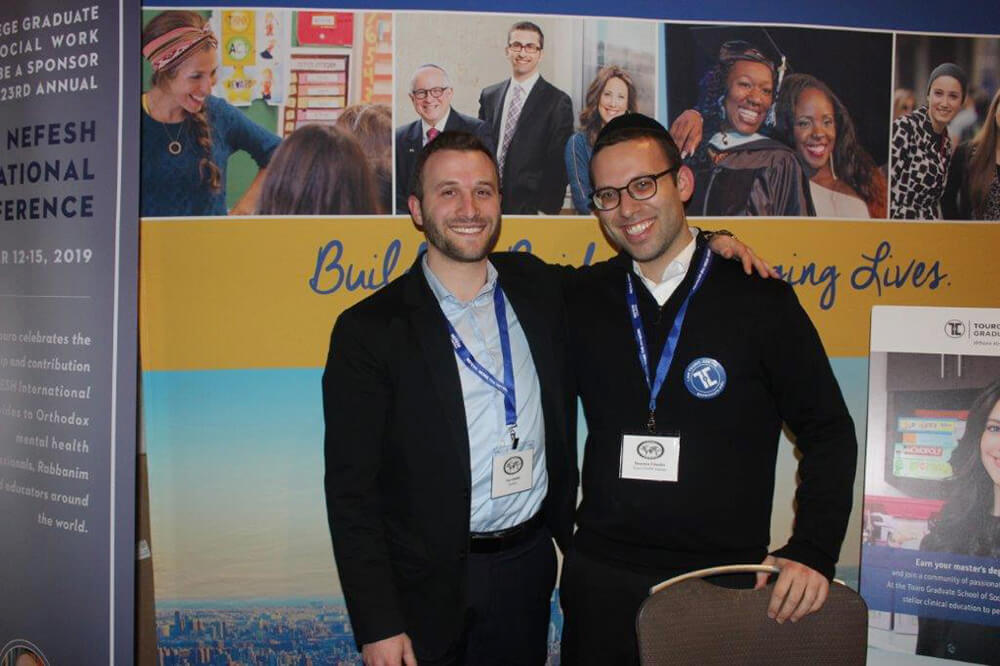 New York, N.Y. – Approximately 500 mental health professionals from around the world met last week to network and learn at the 23rd annual conference of NEFESH International, an association of Orthodox social workers, mental health professionals, rabbis, and educators. The Touro College Graduate School of Social Work (GSSW) was a key sponsor of the four-day meeting, convened at the Hyatt Regency in Hauppauge, N.Y., and hosted 18 MSW students.
The students were welcomed at workshops and presentations and engaged with experts, an experience they hailed as unique for the knowledge and insight gleaned from seasoned leaders of major organizations in the Orthodox community. At least 30 topics were covered in more than 45 sessions with about 50 speakers. Included among the subjects discussed were the treatment of addiction, bipolar disorder, trauma, eating disorders, and marital and couples therapy and intimacy.
"A Unique Partnership"
"NEFESH and the Touro College Graduate School of Social Work have a unique partnership," said Founding Dean Steven Huberman, who addressed attendees at a plenary luncheon. "We are both committed to the advancement of Jewish mental health clinical practice and professional excellence."
The dean shared information about faculty research on trauma, prevention of sexual abuse, services for children with special needs, and religion and mental health. He also announced the school's recently-launched partnerships with the federal government and a private consortium that together provide grants totaling $1.36M to fight opioid addiction. Advanced Touro students have begun receiving stipends of $10,000 each as they work in field placements in areas hard-hit by the opioid crisis, and engage in an innovative curriculum that positions Touro as an educational center for opioid and substance abuse.
"A special focus will be on addiction in the Jewish community," said the dean, who also discussed other Touro opportunities for the Jewish community. These include special scholarships for disadvantaged students and the Chesed Leadership Program, a fellowship designed to nurture and advance Orthodox Jewish women leading nonprofit and social service organizations.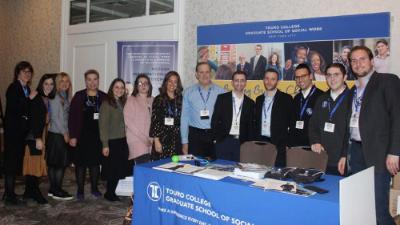 Faculty Presentations and Student Accolades
Touro GSSW Professor Dr. Steven Pirutinsky presented results of a study on whether religious patients need religious psychotherapists. The research involved Orthodox Jewish and non-Orthodox control patients receiving psychotherapy from Orthodox Jewish and other psychotherapists at a New York-based outpatient clinic. The treatment was cognitive behavioral therapy (CBT), where negative thoughts are challenged in order to change unwanted behavior patterns or treat mood disorders like depression. Orthodox patients reported lower anxiety and depression at the start, but at the end were at the same place as the control patients.
"The research suggests that treatment of clinical mood and anxiety disorders in the Orthodox Jewish community using a skills-based modality like CBT is equally effective on average when provided by Orthodox and non-Orthodox therapists, assuming that the non-Orthodox are familiar with Orthodox Jewish culture and respectful of religious-cultural differences," he said.
At "Thespian Therapists: 4 Couples, 4 Approaches" Dr. Alan Singer, a Touro professor and director of Jewish community outreach for the men's division, did role-playing based on scripted dialogue from case notes of an actual therapy session that involved a couple wanting to salvage their marriage after infidelity.
"There are 900,000 divorces a year in the United States and fewer than 10 percent of those couples get any help," Dr. Singer said. "Sadly, there are a million children who are part of those couples. Isn't this something we therapists must do something about?" he asked attendees.
Touro student attendees applauded the efforts put forth at the conference. Miriam Helfgott signed up with friends for a NEFESH "Early Professionals" initiative so she could continue to network and learn after the conference. "Information is important," said Helfgott, a mother of six who balances family life with school, fieldwork and a part-time job at an EMT training school.
Yair Ausubel, a second-year student from Long Island, also enjoyed learning from professionals. "We were all looking to improve. The material was very engaging and the topics were relevant and informative. Some were sensitive but they were about things that we needed to speak about to help the community," he said.
Benjamin Felendler won a raffle to attend Shabbos. "That was a highlight because there was an immense feeling of unity," said Felendler, who lives in Brooklyn with his wife and three children. "We all had come together for inspiration and insight into helping others."
About the Touro College and University System
Touro is a system of non-profit institutions of higher and professional education. Touro College was chartered in 1970 primarily to enrich the Jewish heritage, and to serve the larger American and global community. Approximately 19,200 students are currently enrolled in its various schools and divisions. Touro College has 34 campuses and locations in New York, California, Nevada, Berlin, Jerusalem and Moscow. New York Medical College; Touro University California and Touro University Nevada; Touro University Worldwide and its Touro College Los Angeles division; as well as Hebrew Theological College in Skokie, Ill. are separately accredited institutions within the Touro College and University System. For further information on Touro College, please go to: www.touro.edu/news