"Resilience is a Universal Word"
Graduate School of Social Work 2019 Community Day Devoted to Building Resilience
March 28, 2019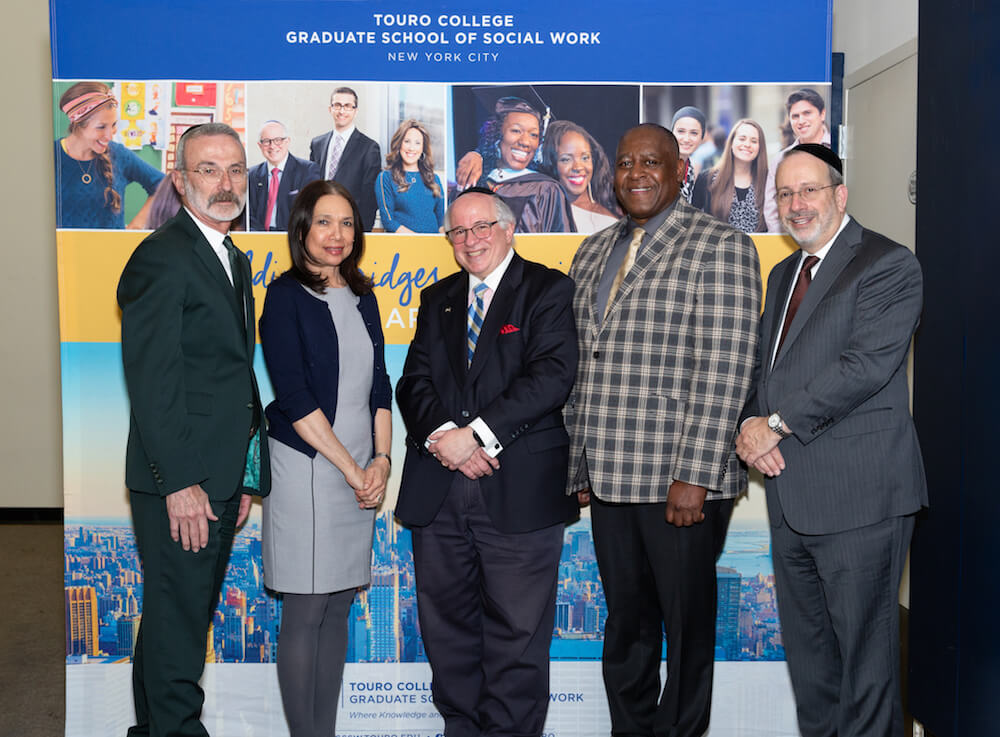 During Touro's Graduate School of Social Work's Community Day on March 13, students and faculty members listened to speeches about resilience from speakers (left to right): David Mandel, CEO of Ohel Children's Home and Family Services, GSSW's Dr. Annecy Baez, GSSW Dean Steven Huberman, Ph.D., GSSW alumnus Bobby Staley, and Touro Executive Vice President Rabbi Moshe Krupka.
What is resilience? How is it developed and how can social workers help their clients develop more of it?
These were the question that Touro College Graduate School of Social Work sought to answer during their annual Community Day, held at Lander College for Women—The Anna Ruth and Mark Hasten School on March 14. The event featured an impressive array of speakers including GSSW Dean Steven Huberman, Ph.D., Ohel Children's Home and Family Services CEO David Mandel, GSSW's Dr. Annecy Baez and Bobby Staley, the valedictorian of GSSW's first graduating class.
Rabbi Moshe Krupka, executive vice president of Touro College, opened the event with memories of Dr. Bernard Lander, the founder of Touro.
"The Graduate School of Social Work is a place for each and every one of you to learn how to help others—to use your God-given talents, your concern and love of humanity, all the scholarship and best practices that you're learning through this outstanding graduate program—and make this place, this world that we all live in, a better place," said Rabbi Krupka, who flew in from Israel early to attend the event. "By doing that you live up to the ideal our founding president lived by."
Following Rabbi Krupka's remarks, Dean Huberman discussed his own battle with cancer and how that fight led him to create GSSW.
"After that experience… I had an epiphany: I was going to take this horrendous experience and make it something good," said Dean Huberman before introducing keynote speaker David Mandel, CEO of Ohel Children's Home and Family Services and Chair of GSSW's Professional Advisory Committee. Ohel is the largest Jewish social service agency serving the traditional Jewish community and helps more than 11,000 individuals each year.
Mandel devoted his speech to the value of family narratives in building up resilience. He shared his own story of growing up with his parents, both of whom survived the Holocaust.
"Knowing the problems your parents experienced and how they overcame it builds up your own resilience," stated Mandel. "I grew up with these stories my entire life. I believe those stories—in combination with the self-esteem and self-confidence that was instilled in me by my parents—defined my resilience."
Mid-speech, Mandel pivoted and began describing various types of trauma from emotional neglect to losing a loved one to physical and sexual abuse. He asked audience members to stand if they had experienced a form of that trauma. By the time he finished his list, few remained in their seats.
"Resilience is a universal word," explained Mandel. "Look around. The overwhelming majority of individuals have identified themselves as experiencing some form of trauma. How did you all get back from it? Resilience is cross-cultural, cross-racial, it's cross-religion. It happens the same way to everyone."
Dr. Baez spoke next, chronicling her own journey from the Bronx.
"Having resilience doesn't mean you don't suffer," said Dr. Baez. "It means you do, but you bounce back."
Speaking to the audience, she admonished: "You are resilient. You may not know it, but you are. If you're in graduate school, working full-time with a part-time internship, and going to classes—take a pause—think of all the things that are in you and outside you that made this possible. That's your resilience. Think of all that it took to be here today."
Bobby Staley, the valedictorian of GSSW's first graduating class, spoke of his own childhood in Brownsville and the obstacles he faced before enrolling in social work school.
"Ask not what's wrong with you, but what happened to you," he counseled. He spoke of resilience as a circle: "When we help others become resilient, we also become more resilient."
GSSW first-year student Faigy Weinstock said she enjoyed the event and found parallels between her life and Mandel's. "My grandfather was a Holocaust survivor," said Weinstock. "He experienced so many horrors but managed to keep on getting up again."
"It was really great," said GSSW student Arianna Kaufman about the event. "I liked how it dealt with building resilience in our clients in clinical practice."
GSSW Student Iavanna Lindo found the topic especially timely. "It's midterms so we're all under a lot of stress and we need to be more resilient," said Lindo. "It came at the right time."