Saving a Failing School
Stephanie Smiley, Touro Graduate School of Social Work '22, Saves a Struggling High School by Helping Students and Community Believe in Themselves
August 16, 2023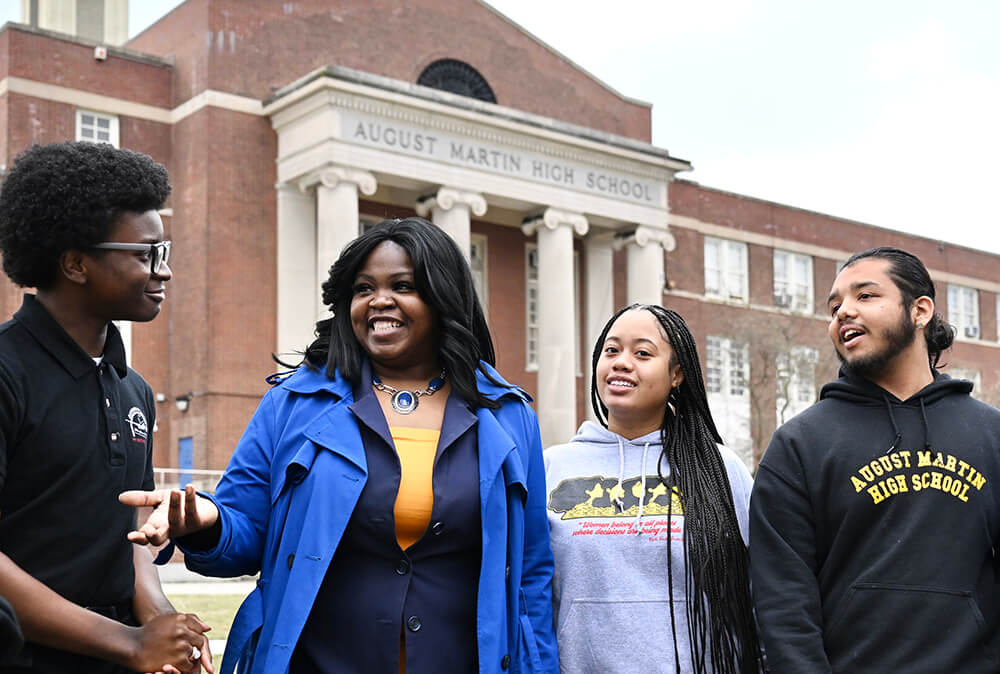 Stephanie Smiley with students outside August Martin High School
When former New York City Mayor Bill de Blasio held a Town Hall at August Martin High School in Queens to announce new programs for local kids, Stephanie Smiley stepped up to the mic with a very specific ask: "You've visited our school a few times, but haven't seen our football field, which needs a complete overall. Will you give us the money to fix our school's dilapidated football field?"
"He said, 'Ms. Smiley, I'm definitely going to do that. I promise you,'" recalls Smiley, who was school secretary but functioning like the school social worker—the position she holds today.
Smiley completed her MSW degree at Touro Graduate School of Social Work in 2022, and credits Touro with building her confidence to apply for the social worker position and believing that her degree—coupled with experience—would meet the challenge.
"I'm grateful for the opportunities afforded to me by Touro and the amazing professors who reinforced my longing to advocate not just for others, but for myself," she says. "The professors taught me to add value to the work we do, and I'm doing that by applying theories and critical thinking strategies."
A FAILING SCHOOL…
At the time of the former mayor's visit, August Martin had come full circle from being designated a failing school targeted for closure. After meeting benchmarks that showed improvement, it was removed from a list of schools slated for receivership. It had met or exceeded targets for attendance, college readiness scores and graduation rates, which previously hovered at 23 percent.
Smiley was trying valiantly to restore faith in the school among students, their families and the local community. She reached out to her extensive contacts and rallied public officials to engage in the effort.
"I strongly believe social workers must be positive disrupters," she says. "A failing school affects the entire community. Once you're on the list for closing, no one is looking to give you new science labs and football fields. They had written us off."
…AND A LOYAL ALUMNA
Smiley also happens to be a loyal alumna of August Martin, which has a rich history dating back to 1942 and was known for its aviation program. She excelled at the school and enjoyed her time there. Though proudly raised in Brooklyn, she loved her school enough to commute to Queens. She is also a long-time and active member of its south Queens neighborhood, where she lives today with her husband and three sons.
"I always wanted to go back and contribute," she recalls. "As a teenager, members of the school community saw more in me than I saw in myself. They invested and advocated for me during my adolescence, and I wanted to be that champion for someone else."
She had the backing of the new principal, who recruited her for her community ties and experience during a 15-year career as a teaching assistant and parent coordinator. But she always aspired to be a social worker, which became official after starting her studies at Touro.
"I was the face of a rebranding. I told the story of what August Martin once was, and I'm living proof of what can occur when someone cares and invests in our community," she says. "There was a lot of mistrust," and changing attitudes and behavior "was like triaging in an emergency room."
HONORED FOR COMMUNITY SERVICE
At her Touro graduation, Smiley was honored with a Community Service Award for her tireless efforts. She empowered the students, referred to as "scholars" under the new administration. They were fighting and skipping school, and if they attended, "no one was taking notes," she recalls. "There was no structure and the school community had been labeled 'failing' for so long, they began to believe the reports."
Smiley's theory was to reframe the fighting by teaching them that they were worthy of fighting for a better future for each other. This helped ignite a passion to better themselves and the school. The scholars designed new uniforms with the school logo and definition of 'scholar' on the back of polo shirts. They accompanied Smiley to recruitment events and community board meetings as school ambassadors who advocated for their needs.
She was moved by their modest and heartfelt wishes. "They wanted good teachers," she says, "and someone to believe in them."
Smiley also reached beyond the classroom. Services overlapped and scholars didn't always know where to go for help. Changes were made to broaden support and "social-emotional learning" competencies—government-mandated curricula designed to help students identify and manage their feelings—were infused into lesson planning.
She also introduced some fun by resurrecting a step dancing program to promote self-esteem and leadership, and became an advisor to My Sister's Keeper, a mentorship group that provides social and emotional support for girls. During the pandemic, when scholars were discouraged and feeling down about school, she created a humorous video about attendance, "Spotty," to encourage them to stay on track.
"It's not just about learning," she explains. "It's also about whether students are hungry, getting over coping with the loss of a loved one and balancing trauma they're dealing with while learning. That became my passion, getting them to trust the school and the process."
Today, August Martin still offers training academies in aviation and other vocational careers, like culinary arts. Smiley proudly takes credit for restoring valuable school partnerships with the Federal Aviation Administration, JetBlue and the Port Authority of New York and New Jersey. Enrollment and attendance are up, and the graduation rate last June stood at 98 percent.
Recently, her dedication and support in the community was recognized with an award from New York State Senator James Sanders Jr., and NYC Department of Education Chancellor David Banks visited the school and observed the social emotional learning circle.
And something amazing came out of an exchange between a NYC politician and an aspiring school social worker: Smiley now serves on a committee designing an $11.2 million state-of-the-art sports facility for baseball, track and soccer and, of course, a brand new football field!