Social Work Students Volunteer for HOPE Count
Annual Homeless Count Provides Vital Information to NYC
January 30, 2018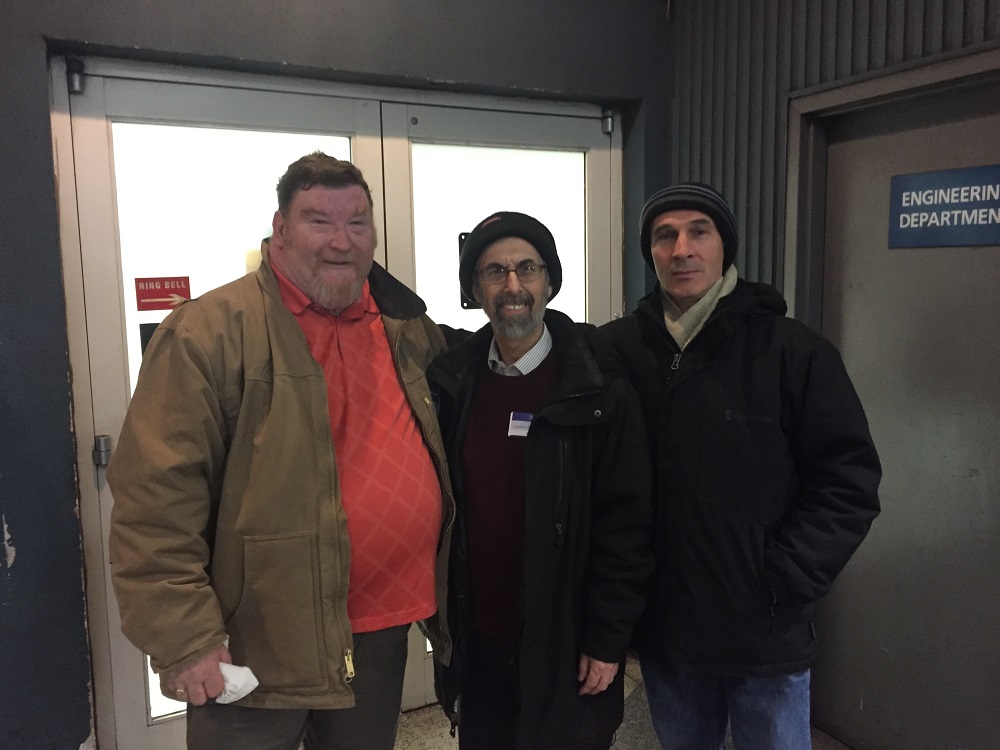 Volunteering for New York City's Homeless Outreach Population Estimate (HOPE) on Jan. 22 had a personal dimension for Touro's Graduate School of Social Work (GSSW) student Veronique Green. After a disagreement with her mother, Green was homeless for half-a-year as a teenager.
"I was homeless, but you couldn't tell it by looking at me" said Green.
Green, together with three other Touro students and hundreds of volunteers, fanned out across the five boroughs of New York to participate in the annual homeless count. Since 2005, HOPE has given a snapshot of homelessness on New York City's streets. The number of homeless people is then tabulated by the city's Department of Homeless Services to better allocate resources for shelters and emergency housing. Last year, 3,982 homeless individuals were counted, an increase of 39 percent from 2016 (though the department noted that the increase on the streets might have been triggered by milder weather). Numbers for the 2018 have not been released yet.
Touro GSSW students have been a part of the count since 2008, according to GSSW Professor Elhanan Marvit, Director of Administrative Services and the school's Brooklyn Learning Extension, who led the group.
"This is social work in action," explained Marvit, who participated in the count last year. "This is Tikkun Olam, the Jewish concept of repairing the world."
Working with the Bowery Residence Committee, the Touro contingent surveyed the homeless population spending the night at Penn Station.
GSSW students Hugh Maxwell and Oleg Gotesman both work in the mental health field and said that seeing how the homeless spend their nights enabled them to better understand the populations they work with.
"Most of the people I work with start off in the streets before they make their way to transitional housing," said Maxwell who works with Beacon of Hope House in Staten Island.
"My field work is with the formerly homeless," said Gotesman. "This is a chance to better understand what they went through."
Last year, the Touro contingent patrolled the streets around Penn station. This year, they split up among the different wings within Penn Station. Gotesman, Maxwell and Marvit sought out the homeless sleeping by NJ transit and the subway platforms while GSSW students Green and Shantel Dunston, led by Bowery Residence Committee Outreach Specialist Naomi Reese, counted the homeless spending the night by the Amtrak terminal.
As part of the survey, the students were required to ask anyone who appeared to be homeless several questions: whether they were homeless; whether they had a place to stay that night; their ethnicity; their age range and if they needed shelter.
Reese gently prodded the volunteers to reach out to people in the terminal. Men and women slept leaning on the walls and the barrier separating the seating area of the Amtrak terminal from the waiting space. A police officer rustled a man sleeping on the staircase. Green took note of a man surrounded by filled plastic bags sleeping by the metal shutters of a closed store. An elderly well-dressed woman who stood with a mountain of luggage and a fold-up chair, politely declined to answer any questions.
"You don't notice how many homeless there are if you're not looking for it," Reese explained, adding that she had been unaware of how many homeless people lived in Penn Station until she started working for BRC. "When it's below 30 degrees, Penn Station becomes a homeless shelter."
A mentally ill man held up a pair of keys and muttered something indecipherable to the survey questions.
GSSW student Shantel Dunston spoke with an older man hunched over a garbage can.
"Do you have a place you consider home?" Dunston asked him a survey question.
"No," he answered frankly.
"What is your age range, 31-40…"
"I'm 61," he said.
By 2 a.m., the group counted nearly twenty men and women sleeping by the Amtrak terminal. As they walked back to the Bowery Residence Committee Office, they stopped by an immaculately dressed man in a brown leather jacket. He didn't seem to understand the questions. Reese told the students to mark him down as homeless—she had seen him at the station for several nights.
"He's part of the hidden homeless like I was," Green said. She said her own story gave her hope for those she met. "Seven years ago I was homeless. Now I'm finishing my graduate degree."