Take Care
Heidi AtStathi found out that the secret to helping others is self-care. A professor in Touro's Graduate School of Social Work helped lead the way to a more balanced life and better care for her future patients.
June 19, 2019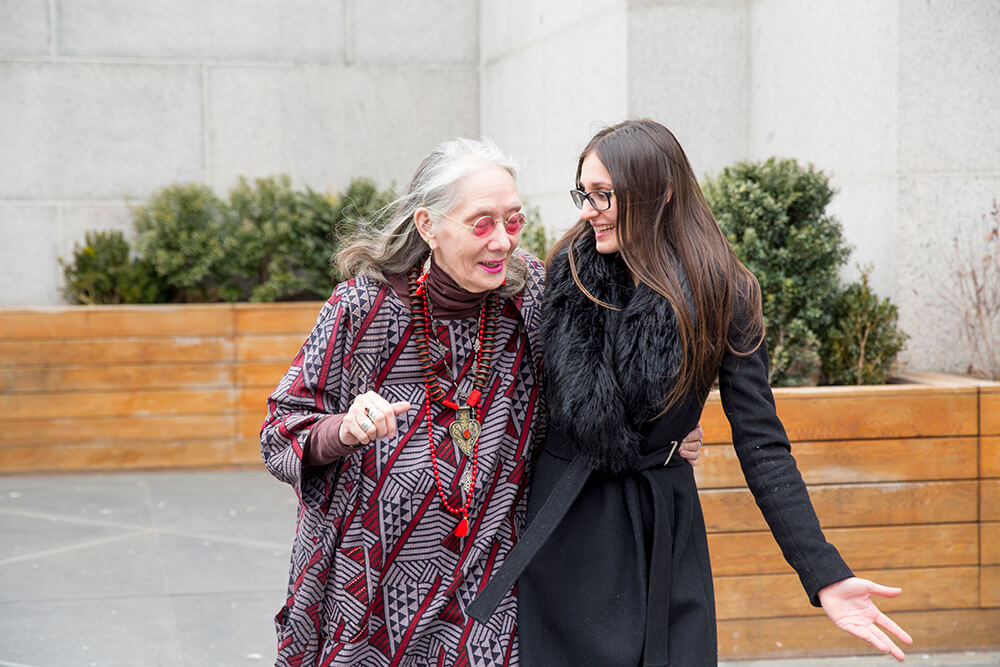 Heidi AtStathi and her teacher, Professor Halpern Rojas, grew close over the course of the class.
"Uh-oh, it's time to pay up." That's what I thought when I entered my Practical Field Seminar class last year and heard Professor Melissa Halpern Rojas speak," recalls Graduate School of Social Work (GSSW) student Heidi AtStathi.
Designed to assist students transitioning into their professional roles as social work interns in the field, the seminar helps students acquire the skills, knowledge and self-awareness to develop a professional identity and learn approaches to self-care that will sustain and nourish them through the often draining and demanding job of social work.
SCHOOL-WIDE INITIATIVE
Self-care, part of a new initiative spearheaded by Dean Steven Huberman, is a school-wide effort to encourage students, and also faculty and staff, to practice self-nourishment, which can include following healthy eating routines, meditating, communing with nature, exercising or gathering with significant others or friends. Explains Dean Huberman, "We want our students – our future social workers—to know that if they're going to take care of others, that the first step in doing this is taking care of themselves."
One of the components of this initiative is Professor Halpern Rojas' seminar and its curriculum, which she has been developing over her years at GSSW. "The idea grew out of my experience of being a wife, a stepmother, a caretaker for my mother-in-law and other family members and working as a social worker the whole time. I had to learn this for myself. It's not in a textbook."
Defined as the practice of self-compassion and nourishment of the body/emotions/mind and spirit, self-care is critical for social workers who can be at risk of professional burnout. Explains Professor Halpern Rojas, "Most social workers are hard-working, not paid enough and often not afforded much respect from the greater community. My goal in this class is to help them create a pattern of understanding of how much work they do, how exhausting their work can be and that it is their responsibility to nourish themselves."
RECOGNIZING THE NEED
Students taking the seminar undergo a series of self-assessments that look at their existing methods of self-care including physical, psychological, social, spiritual and professional. Over the course of the year, students develop ways of incorporating self-care into each day by journal-keeping and classroom or one-on-one discussions with Professor Halpern Rojas. Recalls AtStathi, "There couldn't have been a better person to go through this course than me." As someone who likes to care for others and often puts her own needs last, AtStathi's self-assessment revealed a lack of sleep, poor eating habits and few opportunities for meditation. "I didn't realize until I did the self-assessment that I really treated myself badly. I often value doing things for others more than doing them for myself." "I tell my students, 'If you learn nothing else from me, learn that self-care is your professional responsibility. You won't be able to perform your tasks as a social worker without fully embracing self-care,'" explains Professor Halpern Rojas.
RECONNECTING WITH HERSELF
With an internship requiring a two-hour commute by train, AtStathi would rise at 5:30 am and have no time for herself by the end of a long day. With the help of Professor Halpern Rojas, AtStathi worked out a way to taxi to her job making it possible for her to leave for work later. "I felt a lot of guilt for being a slacker," she explains. "But in reality, my whole world had spiraled. Now I get to keep my eyes closed in the morning a little longer. I'm journaling more and bought paint and brushes and began oil painting again, which has been a life-long passion," she continues. "Having Professor Halpern Rojas' constant reminder to care for myself has trained me to recognize when I need time to get back to who I am so I'm not just a social worker, sister, daughter or girlfriend. This has been a huge learning process and one I think will benefit both me as well as my social work clients as I enter the professional world."