Touro Celebrates Social Work Month
Virtual Events Highlight "Essential" Role of Social Workers Against Backdrop of Pandemic
March 04, 2021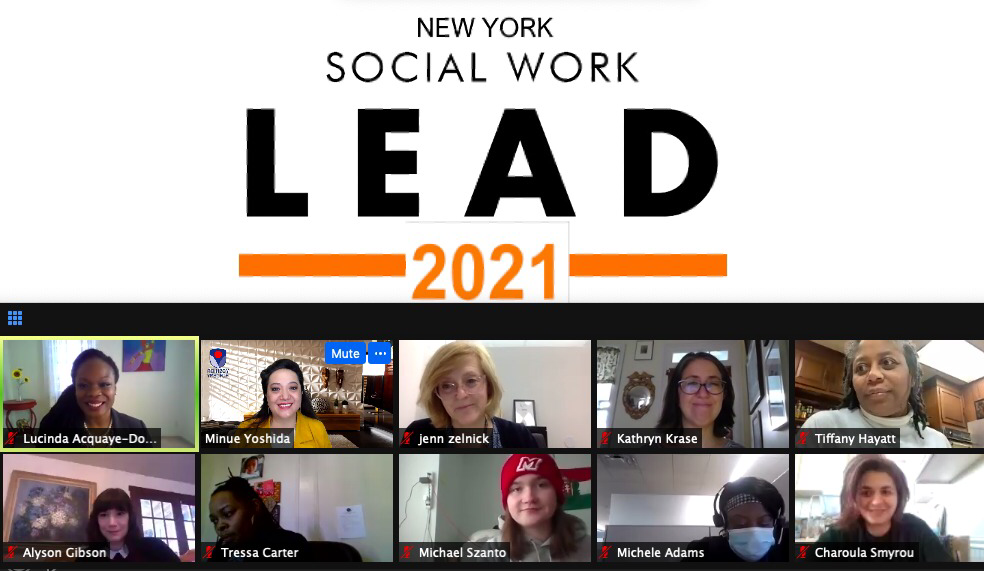 Professor Zelnick (top row, middle) welcomes participants to LEAD Day 2021
March is "Social Work Month" and Touro's Graduate School of Social Work is celebrating with a series of virtual events that include promoting legislative action at the state capitol, and addressing the pandemic at a United Nations event and at the school's annual Community Day.
Against the backdrop of the pandemic and the economy, the profession's theme for the month is "Social Workers are Essential".
"This year, the annual recognition of Social Work Month has taken on added significance in the context of the COVID-19 pandemic, and the reckoning around racial justice that has been unfolding over the last year," notes Jennifer Zelnick, professor and policy chair at GSSW. "Social workers have an essential role to play in meeting the critical needs of so many here in New York State, but too often this work is invisible."
The "essential" campaign evaluates the profession and the important contributions made to New York City and state. "We are excited that Touro College Graduate School of Social Work is a part of so many meaningful events this March," Zelnick added.
"LEAD Day" Kickoff
The celebration launched March 2 with GSSW students joining over 650 social work students across the state in a virtual "Legislative Education and Advocacy Day" ("LEAD"). The event was organized by several groups including the New York City Chapter of the National Association of Social Workers.
On March 16th, GSSW students will participate in the 38th Annual "Social Work Day at the United Nations", an event the school has participated in every year for the past decade. This year's theme: "Responses to COVID-19: Standing Together Makes Us Stronger."
At the GSSW annual Community Day on March 23, the focus again will be COVID-19, and social work's role in ending the pandemic and healing communities. Students, faculty and staff will gather with guest speakers for presentations and discussion.
Social Workers Needed
According to the NASW, there are more than 700,000 professional social workers employed in the U.S., and more than three million worldwide. The U.S. Bureau of Labor Statistics identifies social work as one of the fastest growing professions in the country.
Still, more social workers are needed to deal with entrenched problems like systemic racism, the coronavirus pandemic and the economic downturn.
"Social work is a field that focuses on improving people's lives," said Roberta Shiffman, LMSW, director of field education at the GSSW. "Social workers deal with a variety of problems and issues faced in all walks of life, at any stage of life. They work everywhere - from hospitals and health care facilities to schools, community centers, private practice, and social service agencies."
At a social service agency, social workers might develop programs that address the fallout of crime, domestic violence and homelessness, or advocate for such programs at a policy level.
At LEAD Day this week, the issue of institutional racism and strategies for how the legislature can mitigate its impact were discussed. GSSW student Chaim Laufer volunteered to role-play advocating for a racial equity and social justice bill with legislative staffer Brian Romero, Chief of Staff for State Assemblymember Jessica González-Rojas (D-Queens, NY). Students from around the state developed talking points in a breakout session.
Chaim said LEAD Day reinforced the value of making room for advocacy in social work practice. "We have been educated with the tools to make people's lives better," he said. "The growth and satisfaction that we get from helping individuals in our practice can be used to help develop policy and advocacy for groups of individuals that share in that struggle. We don't have to choose one avenue. As social workers, we can be policymakers as well as therapists."