Touro College Graduate School of Social Work Student Presents Research at International Conference in Israel
Chana Lazar Presents Research On Trauma and Younger Adults in Nursing Homes at The Hebrew University of Jerusalem.
February 15, 2012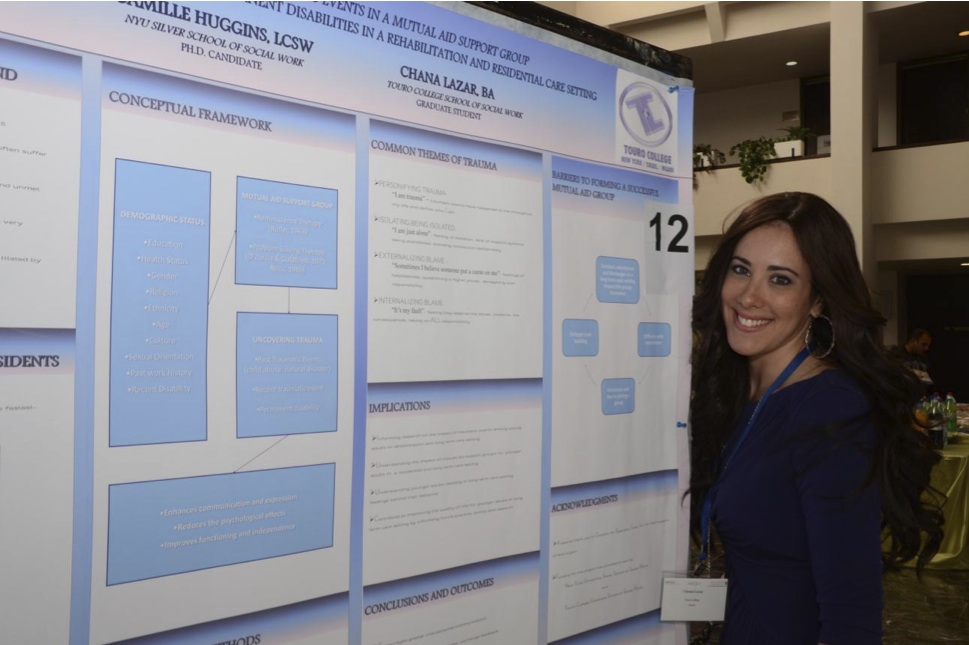 New York, N.Y. – Chana Lazar, a second year master's student at the Touro College Graduate School of Social Work, recently presented research findings from her social work internship at a Brooklyn nursing home, at an international conference on trauma held at The Hebrew University of Jerusalem.
The conference, "Trauma Through the Life Cycle from a Strengths-Based Perspective," drew researchers and educators who are experts on psychotrauma and violence, as well as practitioners, international and Israeli students, policymakers, and other members of the general public. The gathering was co-sponsored by the Paul Baerwald School of Social Work and Social Welfare at the Hebrew University and the New York University Silver School of Social Work.
Titled, "Uncovering Traumatic Events in a Mutual Aid Support Group for People over 50 with Permanent Disabilities in a Long Term Care Setting," Ms. Lazar's presentation was co-authored with Camille Huggins, LCSW, Ms. Lazar's supervisor and director of social work at the Brooklyn Center for Rehabilitation & Residential Health Care, where the research was conducted.
According to Mses. Lazar and Huggins, 14 percent of the long term care population is younger than 65, with adults ages 31 to 64 making up the fastest-growing population in nursing homes over the past ten years. Younger adults living in long term care settings more often suffer from traumatic events, have very complicated care needs, and experience higher rates of re- hospitalization and unmet psychosocial needs. Research is limited on successful mutual aid groups facilitated by social workers in general, and specifically for this population and their needs, they said.
The women's research and presentation examined how traumatic events early in life are revealed through participation in a support group, and showed how group therapy can enhance recall of trauma, communication, feelings of acceptance and worthiness, social intimacy, and generally help trauma victims in this age group make decisions about improving their lives.
"Our purpose was to understand the experiences and views of younger adults in a rehab and long term care setting, using certain evidence-based practice models," Ms. Lazar said, adding the participants suffered physical disabilities, such as multiple sclerosis, cancer, stroke and traumatic brain injury, as well as emotional disabilities including suicidality, substance abuse and other mental illnesses. The trauma uncovered during the three months of weekly group sessions included interpersonal violence, physical and sexual assault, unexpected death of loved ones, combat exposure and serious accidents.
"The group was successful in giving the participants hope, strength and inner resources to face serious life crises," Ms. Lazar said, adding that initially the residents were reluctant to join the group but their resistance was overcome by promoting the group as a "skills building workshop" that would work on resumes.
"After we worked on their resumes they trusted me as a facilitator. They saw I could produce something for them and it gave them hope of rejoining the workforce," Ms. Lazar said. As the group continued meeting, gradually its members shared the trauma they had experienced and bonded and began helping one another.
As one example of success, Ms. Lazar recalled a 46-year-old female with stage four esophageal cancer, whom she said was depressed and not socializing before the group began. Ms. Lazar said she took the woman to a local library to obtain a library card, and they visited weekly to check out books. After participating in the group, Ms. Lazar said, the resident went off a feeding tube, her cancer went into remission, and now she is looking to live independently.
"The group gave her a new lease on life. That's what a support group can do for those residents and that age group," she said.
The research from the conference is expected to be published in an upcoming issue of the scholarly Journal of Clinical Social Work.
Touro College's Graduate School of Social Work's Master of Social Work program trains clinical social work practitioners who awaken and enliven the innate ability of individuals, families, and communities to meet their own needs and sustain their equilibrium, thereby enhancing their well-being. The program meets all academic requirements for both social work licenses: LMSW (Licensed Master Social Worker) and LCSW (Licensed Clinical Social Worker).
Media Contact
Barbara Franklin
212-463-0400 x5530
barbara.franklin@touro.edu