Touro College's Graduate School of Social Work Hosts Lecture on Finding Employment in Today's Economy
NYS Commissioner Gladys Carrion and William Rapfogel Of Metropolitan Council on Jewish Poverty Provide Hope.
April 29, 2009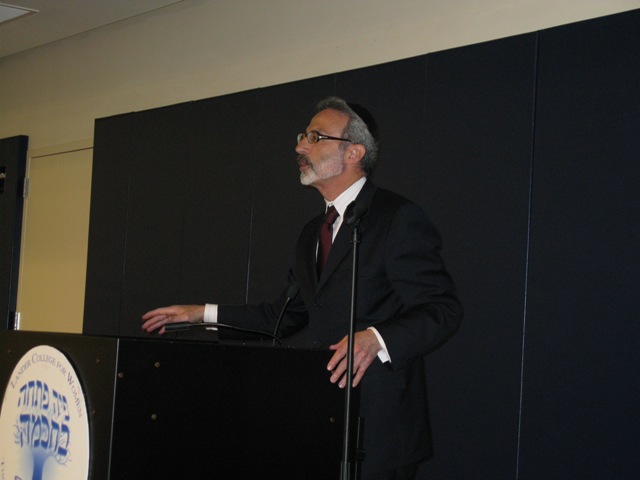 New York, N.Y. - Work on honing your advocacy skills, brush up on your writing, learn to lead, and seek out mentors. This was the advice given to approximately 75 students, alumni, faculty, and staff at Touro College's Graduate School of Social Work at a recent lecture on finding employment amidst today's economic crisis.
Featured speakers were Gladys Carrion, Commissioner of the New York State Office of Children and Family Services (OCFS); William Rapfogel, executive director and CEO of the Metropolitan Council on Jewish Poverty; and David Mandel, chairman of Touro College's Graduate School of Social Work's professional advisory board and CEO of OHEL Children's Home and Family Services.
The purpose of the visit was to give concrete tips and support to social work students entering the job market during one of the worst economic recessions in the nation's history. The speakers also pointed out the tremendous impact that social workers are having on those in need. Following the program, the three fielded questions from the students.
"We were very privileged to have had Gladys Carrion, David Mandel and William Rapfogel speak to our students about finding work in our field during this distressed economy," said Dr. Steven Huberman, dean of the Graduate School of Social Work. "They offered tremendously practical advice about improving skills and networking but most importantly, they offered hope."
While the economy continues to see more job losses--coming perilously close to the 10 percent unemployment rate that many experts see as a depression--Dr. Huberman said there are certain professions that remain recession-proof.
"In addition to medicine and education, human services is a field in which professionals are in high demand," the Dean said. "We have a shortage of licensed social workers and that shortage is expected to grow over the next five years. Social work is a crucial field to help the most vulnerable withstand the impact of our economic crisis."
Dean Huberman said that social workers are making a difference for those at risk living in the New York metropolitan area.
"In today's economic recession, the worst since the Great Depression, the number of vulnerable people has increased exponentially," he said. "Those in the social work profession can make a difference in their lives by helping them navigate through these challenging times."
OHEL is a pioneering social services agency that delivers a breadth of innovative programs and services for individuals and families at risk, and individuals with developmental or psychiatric disabilities, in both residential and out-patient settings.
The OCFS is dedicated to improving the integration of services for New York's children, youth, families and vulnerable populations; to promoting their development; and to protecting them from violence, neglect, abuse and abandonment. The agency provides a system of family support, juvenile justice, child care and child welfare services that promote the safety and well-being of children and adults.
Dean Huberman added that the OCFS has $4.2 billion in its budget to help the most vulnerable populations and that the event helped to forge an ongoing collaboration between Touro College's Graduate School of Social Work and the OCFS.
Media Contact
Barbara Franklin
Director of Communications
212-463-0400 x5530
Barbara.franklin@touro.edu