Touro Explores Violence in the Community
Community Day Emphasizes Prevention and Long-Term Behavior Change
December 18, 2015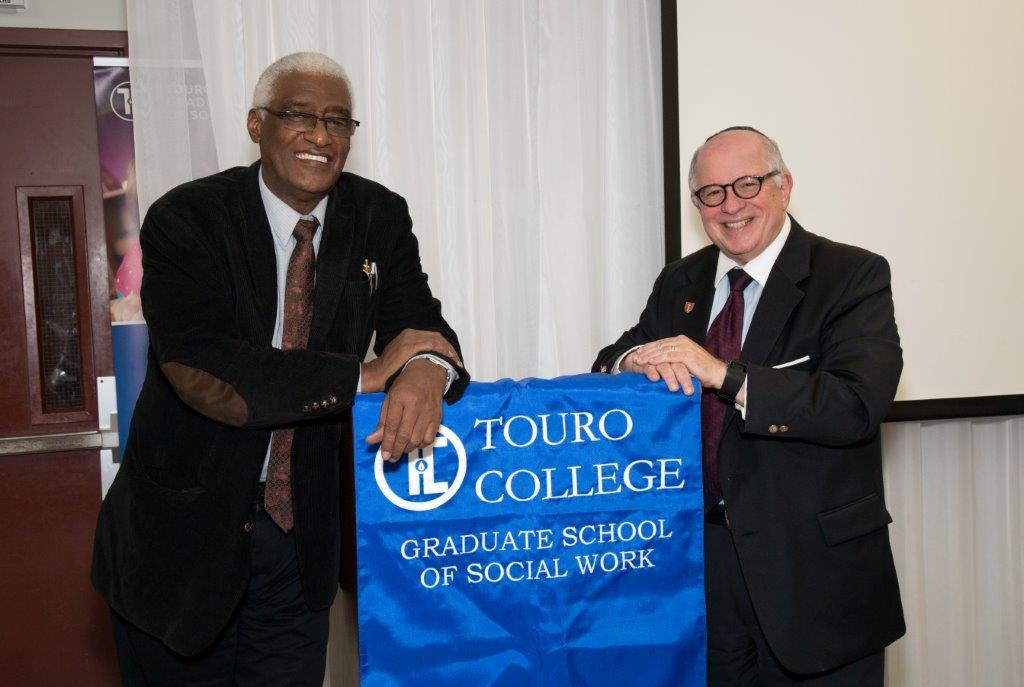 New York, N.Y. – More than two hundred students and faculty members from the Touro College Graduate School of Social Work (GSSW) gathered recently to discuss the timely topic of violence in our communities, and how to manage client anger, rage and humiliation before such emotions spiral into violence.
The occasion was the school's ninth biannual "Community Day" event which brings together the GSSW community to discuss current trends and engage with experts in the field. The program was titled "Violence in Our Community: A Social Work Perspective."
"Violence in our communities is reaching the level of a national emergency," said panelist Melvin H. Wilson, manager of the National Association of Social Workers' Department of Social Justice and Human Rights. Mr. Wilson cited statistics on violence involving intimate partners, children, human trafficking and guns. The concern for gun violence is being widely discussed at this time, he noted, "and is the most compelling."
Mr. Wilson said there are about 283 million guns in civilian hands and more than 31,000 men, women and children are killed by a firearm each year in the United States. He called gun violence a "public health emergency" that requires a public health approach.
Mr. Wilson observed that public health emphasizes prevention, recognizes long-term behavioral change as a key to ending violence and that public health models are effective in mobilizing disparate national resources and advocacy to address health emergencies. For example, the American Bar Association, the American Public Health Association and leading medical organizations are working together to address gun violence from a public health perspective, he added.
In welcoming remarks, Dr. Steven Huberman, GSSW Dean, noted that "violence is everywhere," and cited the "indiscriminate hatred of others" that led terrorists to attack a bus in Jerusalem in October and kill nine people. Among those killed, the dean said, were his friend, civil rights activist Richard Lakin, a former high school principal in the United States known for advocating peaceful coexistence between Israelis and Palestinians.
Other experts who presented at the event included Dr. April Berry-Fletcher, assistant professor at Regis College's Graduate School of Social Work and Graduate School of Nursing; Dr. Michael Britton, psychologist in private practice and a core member of the Human Dignity and Humiliation Studies Network; Dr. Nina Rose Fischer, associate professor at John Jay College; and David Mandel, chair of the GSSW's Professional Advisory Committee and CEO of OHEL, Children's Home and Family Services.
The event was designed to shed light on the epidemic proportions of violence and the effect on social workers, explained Allison Bobick, the school's director of student advancement and organizer of the symposium. Amid school shootings, police brutality and gang violence, "the social worker is on the front line in working with victims of violence," she said.
In her presentation titled "The Neurobiology of Work Place Violence Prevent/Self-Regulation Strategies," Dr. Berry-Fletcher discussed her efforts to ensure the safety of social workers when trying to engage clients veering toward rage.
Among the telltale signs that clients may pose a danger, they are "not talking about what needs to be talked about and their responses are off topic," said Dr. Berry-Fletcher. "Rage is not rational, and the more the client gets agitated, the more you need to get a rein on your self and get grounded."
Dr. Berry-Fletcher said social workers should steer away from the "overrated" inquiry, "How do you feel about that?" Such a question can trigger violence by inadvertently making the client feel "shamed, demeaned and powerless."
As part of his discussion on "When Humiliation Becomes Violence," Dr. Britton noted that shame is a key component of violent behavior and that humiliation "happens" when hope ends. A sense of alienation can follow, becoming a source of preoccupation that hurts relationships with family and friends. Isolated, individuals can then feel "pushed" to the far reaches of society, where they join with others who feel disenfranchised. Together, they can become "inflamed" and turn to violence, he said.
To help such clients, Dr. Britton facilitates their self-awareness by encouraging them to help him understand what they are experiencing. The "empathy focus," he said, has a calming effect.
Given the pressures and challenges of a social work career, Dr. Britton encourages social workers to "take care of themselves" and "detox" – whether that means walking in nature, gardening, pursing a spiritual path, or going dancing with friends.
Media Contact
Barbara Franklin
Director of Communications
646-565-6420
Barbara.franklin@touro.edu
About the Touro College and University System
Touro is a system of non-profit institutions of higher and professional education. Touro College was chartered in 1970 primarily to enrich the Jewish heritage, and to serve the larger American and global community. Approximately 18,000 students are currently enrolled in its various schools and divisions. Touro College has branch campuses, locations and instructional sites in the New York area, as well as branch campuses and programs in Berlin, Jerusalem, Moscow, and Paris. New York Medical College, Touro University California and its Nevada branch campus, as well as Touro University Worldwide and its Touro College Los Angeles division are separately accredited institutions within the Touro College and University System. For further information on Touro College, please go to: www.touro.edu/news/.