Touro Graduate School of Social Work Lauds Class of 2023
Graduating Class Welcomed to the Profession at Annual Awards and Recognition Ceremony
June 09, 2023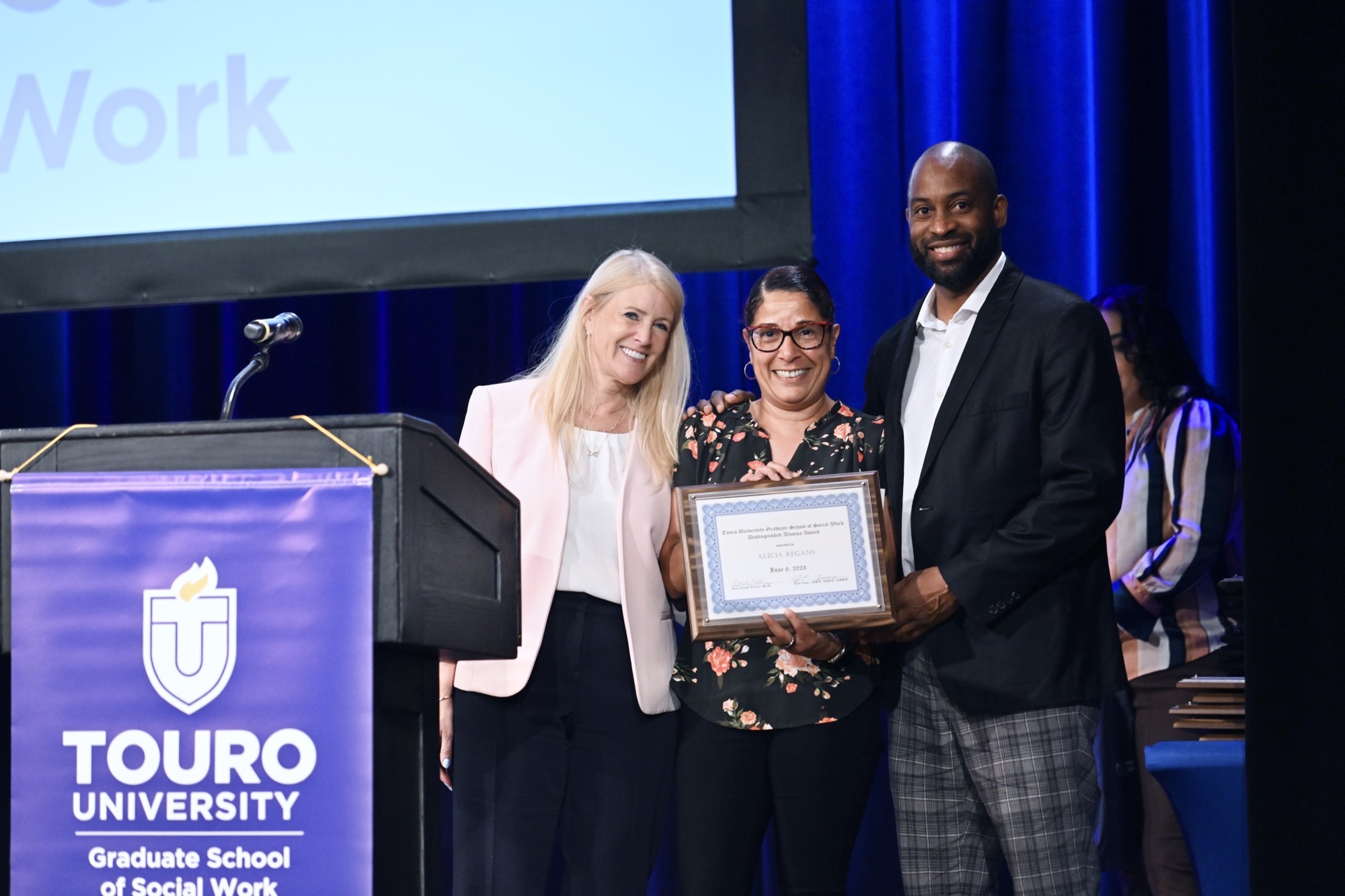 Alumna Alicia Regan, Class of '15, received the Alumna of the Year award during GSSW's Academic Recognition Program.
The auditorium at the 92nd Street Y in Manhattan was filled with laughter, cheers and applause from a crowd of 500 Tuesday afternoon as members of the graduating Class of 2023 from Touro University's Graduate School of Social Work (GSSW) took the stage to accept awards for their achievements.
Dean Dr. Nancy Gallina welcomed the students to the school's annual Academic Recognition Program, noting that the 107 members of the class are entering a robust job market for social work and their Touro education has prepared them well for the road ahead.
"We take pride in ensuring you receive clinical training with a social justice feel, so that each of you are prepared to enter the world and, in your own unique way, right the wrongs, empower those in need, and be the change you would like to see in the world," said the Dean. "Your future is bright and we cannot wait to hear all about it!"
Executive Vice President Rabbi Moshe Krupka congratulated the class on their achievements and paid tribute in his remarks to Dean Gallina.
"We thank Nancy Gallina for her incredible leadership. If anybody is setting the bar high and inspiring all of us to reach beyond what we think our capacity is, she knows what more we can do," he said.
Ovation for 9/11 First Responder and Alumna
Early in the program, the audience rose in a standing ovation for Alicia Regan, Class of '15, as she was recognized with an Alumna of the Year award. Regan enrolled at Touro to become a social worker after surviving 9/11 working as a NYPD first responder.
"In the months and years that followed, social workers helped me to get past that day," Regan recalled in a video shown at the event. "I feel grateful and blessed to receive this award. Touro University is truly a gift that keeps giving and I will always carry the lessons I have learned while attending Touro."
In another moving presentation, MSW candidate Flora Peralta received the "Outstanding Service to the Community and Leadership" award from Dean Emeritus and Professor Dr. Steven Huberman. Peralta, who previously earned a M.A. in Public Policy and Public Administration, also established the Olive Branch Pantry, a non-profit organization that provides free quality hygiene products to homeless individuals and families.
She came to the GSSW because she believed a social work education and license would enhance her effectiveness treating and advocating for her clients. During her time at Touro she interned in the emergency department of Elmhurst Hospital, helping refugees struggling with alcohol and substance abuse.
Peralta also received the "Social Work Leadership and Management" award together with classmates Yvette Kouamenan and Ayesha Boyd. The three women were recognized for becoming the first MSW graduates to complete the school's inaugural program in Nonprofit Leadership and Management.
Research Award: "Intimate Partner Violence"
A "Special Recognition Research" award went to Janet (Yona) Lazarus, who studied intimate partner violence (IPV) and interventions for Orthodox women. IVP is recognized as a serious public health problem by the U.S. Centers for Disease Control, the World Health Organization, and the American Medical Association.
Lazarus presented her work at the New York Academy of Medicine's Annual Social Work Night.
"Janet's ability to conceive of a thoughtful intervention based on community understanding elevated her work beyond a classroom project to an expression of her values and priorities as social worker," said Interim Associate Dean and Professor Dr. Kenneth Kwong.
Other awards went to outstanding students in field education; the federally-funded Behavioral Health Workforce Education and Training Program and the Opioid Workforce Expansion Program; and fellowship recipients in Aging Education, Evidence-Based Practice in Mental Health, and Military Social Work. Thirty-two MSW candidates were recognized for achieving cumulative GPAs of 3.9 and above.