Touro Receives "Social Work School of the Year"
Graduate School of Social Work Honored by National Association of Social Workers – New York City Chapter
October 16, 2020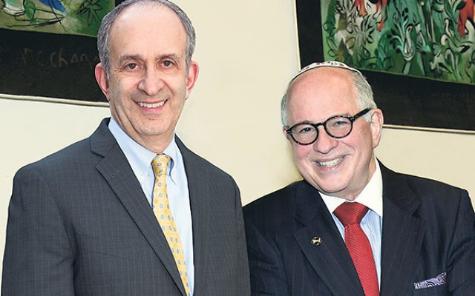 New York, N.Y. – Touro College Graduate School of Social Work (GSSW) was honored as "Social Work School of the Year" by the National Association of Social Workers - New York City Chapter last week at the organization's 13th annual Leadership Awards Gala.
Touro is the first social work school to receive the award, created to acknowledge institutions that educate their members and serve as a foundation of the profession. The inaugural award went to Touro for its leadership and contributions in building the profession. Specifically, it acknowledges the school's commitment to social justice through teaching, advocacy and clinical excellence.
Over two hundred guests attended the virtual event - "20 to 20 and Beyond" - celebrating social workers' achievements, commitment to social justice and the 100th anniversary of the passage of the 19th Amendment guaranteeing women's constitutional right to vote.
"A Strong Name in NYC"
NASW-NYC Executive Director Dr. Claire Green-Forde highlighted the "amazing work and dedication" of Founding Dean Dr. Steven Huberman, faculty, staff, and students.
"Touro has made a strong name for itself in New York City, and the Dean's leadership and dedication to justice go well beyond the institution. He and Touro have elevated our profession by educating students in innovative ways and working to face issues head on so that we remain strong," she said.
Said Dean Huberman in accepting the award, "We will never sleep and never stop until we have justice for everyone. We say, 'Congratulations to NASW and we look forward to serving the community for many years.' "
The school opened in 2006 on West 23rd Street with 60 students. Under the Dean's leadership, it has grown to 325 students enrolled in Manhattan and Brooklyn, and alumni numbering over 1,000. The GSSW prides itself on attracting a diverse student body, which this year is 50 percent Latino and African American, 30 percent Jewish and 20 percent other diverse students.
Over the past four years the school has been awarded $7 million from the federal government and the private sector to train students, faculty and staff in fighting the opioid crisis, and to provide scholarships for disadvantaged MSW students. The aid goes mainly to students who are drawn to working with underserved populations, to provide them with skills to effect change.
"Give Voice to Those Who Cannot Speak…"
"We are all thrilled by this honor," said Touro College and University System President Dr. Alan Kadish. "Our mission is to provide quality education that is accessible and affordable to all. We want to give voice to the needs of those who cannot speak for themselves."
The school has achieved excellence in three specializations: mental illness, military veterans, and aging. All students do fieldwork, at over 100 clinical primary care sites across New York and New Jersey. Their rotations serve the elderly, the homeless and victims of domestic violence. As a group, students travel to Albany and Washington, D.C. to advocate for social workers, and help NYC count the homeless every winter.
The GSSW has a long history with the NASW. Students serve as liaisons to the NYC Chapter, and receive free memberships when they graduate, subsidized by Touro, also a lead sponsor of the Gala. Its director of alumni engagement, continuing education and development, Dr. Eric Levine, serves on the board of directors.
At the close of the evening, attendees were moved by Dr. Huberman's challenge to not focus on despair during the pandemic. He called on them to learn from and be inspired by the Rev. Dr. Martin Luther King, Jr. and Congressman John Lewis.
"Help others. Get out at least twice a week. Go to a park. Enjoy nature," he advised, adding he visits a seven foot bronze statue of Dr. King in his neighborhood, done on the Hackensack River Parkway. "I look at the beautiful quotations about social justice that adorn the statue for inspiration."