Touro Study Finds Asian American Social Workers Needed
Graduate School of Social Work Survey Confirms Recruitment and Training Gap – Career Development, Changes in Workplace Called For
September 25, 2019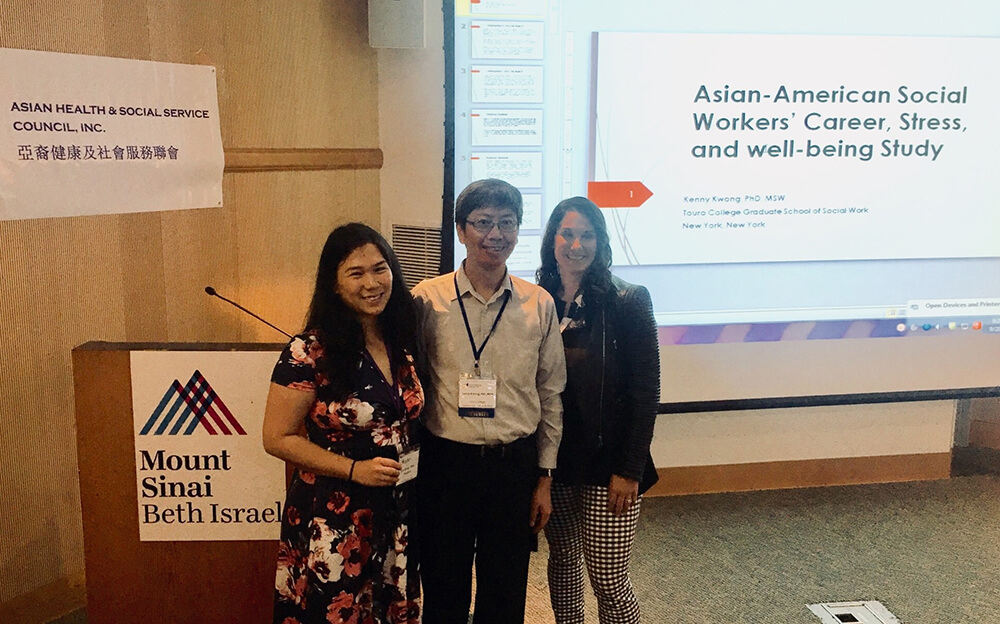 L-R, Eva Wong, President, Asian Health & Social Service Council; Dr. Kenny Kwong, Associate Professor, Touro Graduate School of Social Work; and Alicia Tennenbaum, Senior Director, Department of Social Work and Case Management, Mount Sinai Beth Israel
New York, N.Y. – Change is needed to recruit and retain an adequate number of Asian American social workers in the United States, according to a study by Dr. Kenny Kwong, associate professor at the Touro College Graduate School of Social Work and director of the school's Asian American Social Work Initiative.
The study, "Career Choice, Barriers and Prospects of Asian American Social Workers," is the first major survey of more than 200 Asian American social workers and graduate students in the U.S. Among the topics explored were relationships between:
immigration status and family influence on career choices;
perceptions of glass ceilings, discrimination, organizational fairness and career prospects;
work-related stressors and health problems;
factors contributing to job satisfaction or burnout, and how stress is managed.
On Friday, Dr. Kwong discussed his findings, published in the International Journal of Higher Education, at an interactive presentation hosted by the Asian Health & Social Service Council (AHSSC). A lively discussion took place afterwards among the close to 100 attendees, most of whom were social work, health, mental health and human service professionals.
Change is Needed
More needs to be done to educate youth about social work career opportunities, attendees noted. Dr. Kwong said only 15.8 percent of study participants first considered a social work career before college, and 56 percent reported social work was their first career choice, while 44 percent had a career change to enter social work.
"We can do more. There is a tremendous gap in recruiting and training," he said, noting three percent of master's and 1.9 percent of bachelor's degree graduates in social work in 2016 were Asian, compared with 6.4 percent of the Asian Americans in the U.S. total population. Chinese-Americans are the largest and fastest-growing population in New York City, currently over 570,000, and when combined with other Asian Americans the numbers total over a million, he said.
About 44 percent of survey participants said it was "somewhat or very unlikely" they would stay in their current position in the next three to five years. Among those likely to stay, 98 percent cited a motivation to help people as the reason, whereas 63 percent cited salaries or benefits. The results also suggested participants' perceptions of discrimination and glass ceilings at work may negatively affect their perceptions of career prospects and thus boost turnover.
"The compensation is not very attractive and there are a lot of things going on in the organizations," causing stress said Dr. Kwong, citing increased paperwork and regulations. The use of performance measures, technology, and evidence-based practice models were top workplace trends identified as placing employees at higher risk of stress.
"Based on my experience, the clients …can be very difficult and challenging - which is the case in social work generally - but on top of that a lot of Asian patients have immigration issues, language barriers, and are reluctant to seek services because of a strong sense of denial about mental illness. That means when they seek help, they're already very sick."
Recommended Solutions
A popular solution to recruitment put forward was reaching out to high school students about social work career opportunities. "We can have conversations with families about becoming social workers," Dr. Kwong said, citing the study's finding of a "significant relationship" between immigration status and family influence on careers. Slightly more than half of the participants were immigrants and the majority reported neither parent was born in the U.S.
"A lot of Asian immigrants want their kids to study medicine, engineering, computer science and law, those are the top choices. They hope the new generation can earn more money. If you look at the compensation compared with other industries, social workers earn much less," he said.
Social work is a dream career for many Asian social workers because they are altruistic and share the values and ideals of social work, the survey showed. More effort is needed to reach young people to let them know of ways to earn a good living as a social worker and the rewards and options available, attendees agreed.
Eva Wong, president of the AHSSC, said she switched from actuarial work to social work ten years ago after volunteering with children in the community. "I loved solving math problems but it wasn't where my heart was," she said, adding her salary still hasn't caught up to her previous earnings, "But that doesn't mean I won't be able to take care of my family. There are ways to advance in our careers. There is a 'knowledge gap' about how you can do it in social work."
Stella Chong, a graduate of Brown University's Class of 2018 seated in the audience, said she started out a pre-med student but in college realized she didn't have to be in medicine to improve people's health. "There are social factors like low income, lack of education, unstable housing. Health is not just biological." Chong, now employed as a public health researcher at the NYU School of Medicine, said her next step is to obtain master's degrees in social work and public health. "Students in academic settings need to know, need to see how everything is all related."
Survey respondents ranged in age from 21 to 68, with 82 percent female and 16 percent male. The majority identified as Chinese, followed by Korean, Japanese, Filipino, Asian Indians and multi-racial ethnicity. Most worked full-time, from four years or fewer to 20 years or more. About half lived in New York and New Jersey, with the rest in California, Hawaii, Nevada and Massachusetts. Most respondents had master's degrees in social work.