Trauma Victims: Touro Students Learn Firsthand How to Help
Social Work Students Hear from Ruth Schwartz, Mother of Ezra Schwartz z'l Killed in Israel Terrorist Attack, About Handling Trauma
October 31, 2019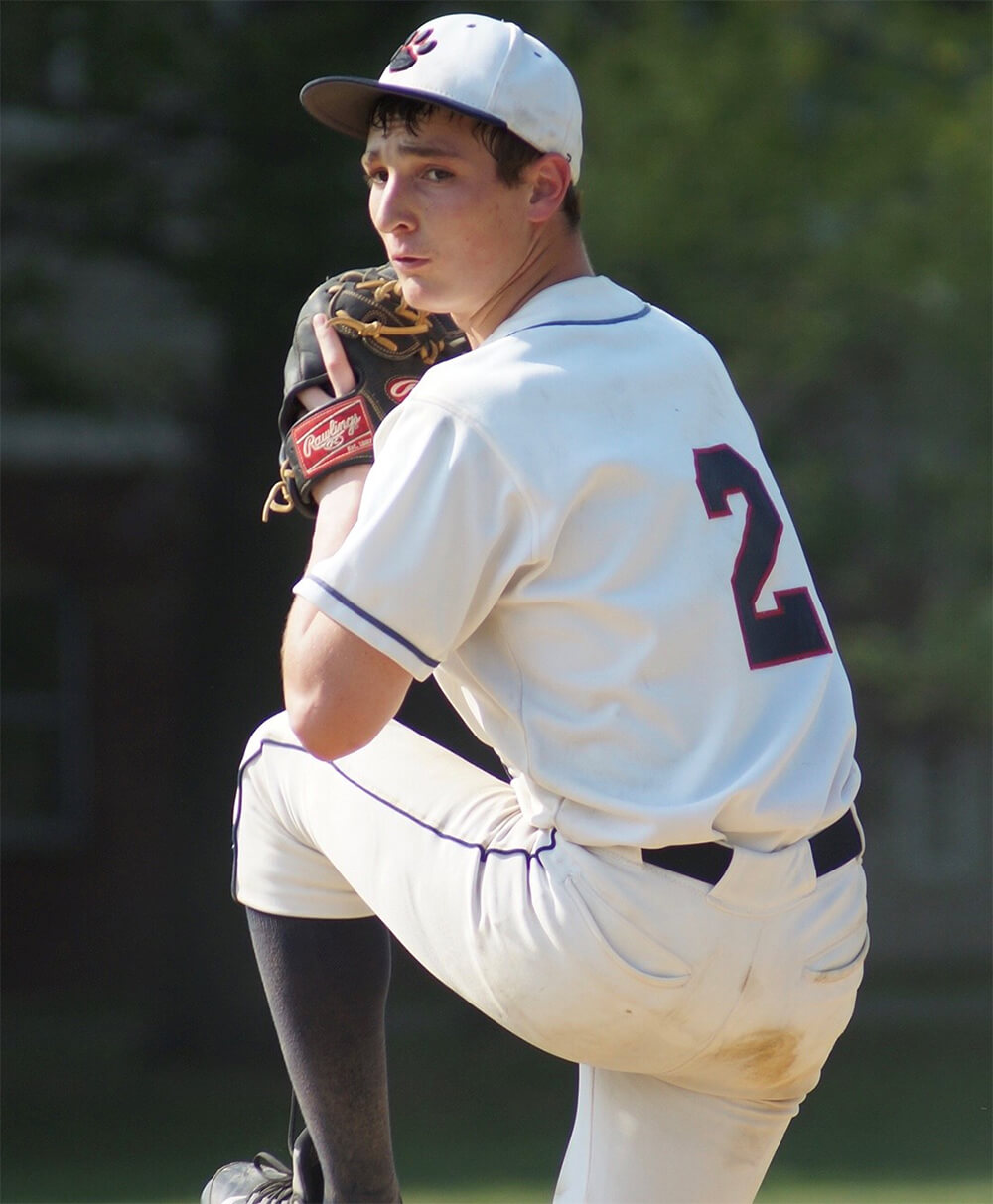 Had he not been killed in a terrorist attack in Israel four years ago while on his way to volunteer at a nature preserve, Ezra Schwartz of Sharon, Mass. would have celebrated his 22nd birthday on Oct. 1. He was in Israel on a gap year, studying at a Yeshiva and working at a summer camp. It is likely his family members and friends - too numerous to count - each celebrated Ezra's birthday anyway, in their own fashion.
"It's very important to remember him and his life, to celebrate the things he loved," said his mother, Ruth Schwartz, in a recent video conference with 15 male social work students enrolled in a class, "Survivors of Trauma", at the Touro College Graduate School of Social Work. Celebrating Ezra's life has been a significant way she, her husband Ari, and their three younger sons, Hillel, Elon and Avi, and older daughter, Mollie, have been handling the trauma of Ezra's murder.
Dr. Alan Singer, adjunct professor and director of Jewish community outreach at the school's Men's Division, led the nearly two-hour session, which helped the students understand firsthand the trauma Mrs. Schwartz, formerly his next door neighbor in Edison, N.J., endured personally; her own journey towards recovery; and what has helped – as well as not helped – her family heal.
Value in Hearing Firsthand
"After hearing her account directly, everyone in the class walked away more sensitive to people who are going through trauma," said Gavriel Balsam, a student in the class who has been counseling Holocaust survivors and hopes to work at Pesach Tikvah, in a family outpatient clinic in Boro Park, after graduation.
Other students agreed, "We could have gone another two hours," said Isaac Massre, who is doing fieldwork at Ohel Tivkah Mental Health Clinic in Brooklyn, providing therapy to clients with autism and depression. "I didn't expect to have such a personal experience. She spoke to us like she wanted us to use the information to help someone who's going through something like she has. That's very practical if you deal with people. In school you get a lot of theory. It's important to get practical, firsthand examples."
Ezra's killing was widely publicized in Israel and the U.S. About 1,500 mourners attended his funeral in Sharon on Sunday, Nov. 22, four days after the attack, and another 1,000 young adults also taking gap years attended a shloshim memorial in Israel. At Rutgers, where he was planning to start college in the fall, a Jewish fraternity made him an honorary member and started the Rutgers Tanach Project, a Torah study effort in his memory. Rutgers Hillel hosted an annual Ezra Schwartz Memorial FIT5K Run/ One Mile Fun Walk. A gifted baseball player, Ezra's family organized an annual baseball tournament in his name for teams from Jewish high schools.
"It was such a shock," Mrs. Schwartz recalled to the class. "My entire family couldn't imagine surviving without him. He was bigger than life – loud, friendly, funny, silly…the heart of our family. If you'd ask any of our kids who was their favorite brother, they'd say 'Ezra'…of their friends, 'Who is your best friend?'… They'd say Ezra. He had a way of letting you know how much he loved you and that you were a priority in his life."
"Everybody Deals With it a Little Differently"
Mrs. Schwartz described how she and her husband and children each had their own way of coping yet they supported one another: "I think everybody deals with it a little differently, but there's respect there."
Among the things Mrs. Schwartz finds comforting are visits with friends, going to the cemetery, collecting and organizing letters and emails of condolence and newspaper clippings, lighting candles, displaying photos, and other "rituals" like saving acorns from the cemetery and keeping them in her pocket or car as reminders of her son. Ezra liked the color orange, so on Ezra's birthday they throw up orange balloons and then find them unexpectedly – outside a shul, or tacked to a restaurant bulletin board. "Maybe all the balloons we find are the ones we send up every year. We have some signs that feel like they're from Ezra," she told the class.
While Mrs. Schwartz finds it helpful to talk about Ezra, including publicly, her husband focuses on organizing and running marathons and 5K walks in his memory. Their daughter Mollie, who was very close to her brother, "sighs a lot" and concentrates on her medical school education. The younger sons stay active with sports and friends, including those of Ezra and Mollie, who have been looking after them. The family tried therapy but no one found it especially helpful, she said. "My 15-year-old, he'll sometimes say things like he's 'kind of angry' about it and taking it out a little bit on God and religion. I think he's questioning, but it's not drastic. He'll comply and do what we do but he doesn't tow the line as well as the other kids."
Lessons Learned
The Touro students said they learned a lot from the session that they could apply in their fieldwork settings and later in their careers. "Everyone experiences trauma in their own way," said Rabbi Akiva Adelman, echoing feedback from many of the students. Rabbi Adelman taught teens in Israel for three years and now lives in Flatbush. As part of his Touro fieldwork, he interned at Shlomie's Club in Brooklyn, supporting boys who have lost a parent. "At the end of the day, you have to build a relationship with every client you're working with and tap into how they experienced their trauma and their journey of recovery. What do they need?"
Rabbi Adelman added the session helped him realize that everyone needs their own space to process their trauma. "She talked about going to the cemetery. She needed to spend time by herself and grieve over her loss," he explained. "I [also] learned that it's not that people don't want to ask for help but they may be somewhat paralyzed. They don't know where to start."
Avi Feinsod from Monsey is working at Samaritan Daytop Village in Queens, a counseling center for veterans that offers inpatient rehab programs. The session reinforced his knowledge that trauma shatters lives. "While clients can be extremely strong and string their lives back together, trauma effects nearly every area of their lives," Feinsod said. "She said the best thing people could do was to be there and actually help," he noted, referring to friends who would stop by and move furniture, unpack boxes, or just listen to her talk about Ezra. "Some people wanted to tell her their story, using her as support for themselves. She said that was not helpful," he recalled. "The lesson for social workers acting as therapists should be to work with the client where they're at and not impose themselves on them. Find out as much as you can and be there for the person to help their particular needs."
About the Touro College and University System
Touro is a system of non-profit institutions of higher and professional education. Touro College was chartered in 1970 primarily to enrich the Jewish heritage, and to serve the larger American and global community. Approximately 19,200 students are currently enrolled in its various schools and divisions. Touro College has 34 campuses and locations in New York, California, Nevada, Berlin, Jerusalem and Moscow. New York Medical College; Touro University California and Touro University Nevada; Touro University Worldwide and its Touro College Los Angeles division; as well as Hebrew Theological College in Skokie, Ill. are separately accredited institutions within the Touro College and University System. For further information on Touro College, please go to: www.touro.edu/news