Veteran Spotlight: Joseph Harkins
Graduate School of Social Work (GSSW) Salutes Students Who Have Served Ahead of Veterans Day
November 09, 2020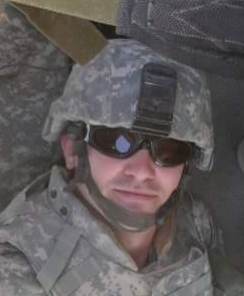 Graduate School of Social Work student and Army veteran, Joseph Harkins
As Veterans Day approaches, we spoke with Army veteran, and social work student, Joseph Harkins, on why he enlisted, where he served, and more.
Reason he enlisted: I enlisted while I was still in my junior year of high school as my family has a tradition of serving in the military, dating back to my grandfather fighting in World War I.
Active duty assignments: I was stationed in Iraq for a year. The remainder of my service was spent at various duty assignments throughout Pennsylvania. I started as a medic, then earned my commission through ROTC and became an officer. Throughout my service term, I was in roles including Platoon Leader, Battalion Maintenance Officer, Brigade Maintenance Officer, Company Commander, Battalion Operations Officer, and Assistant Brigade Operations Officer.
Military awards: Meritorious Service Award with oak leaf cluster, Army Commendation Medal, Army Achievement Medal, Global War on Terrorism Service Medal Operation Iraqi Freedom Service Medal, Iraq Campaign Medal, National Defense Service Medal, and a Parachutist Badge.
Why he's passionate about social work: When looking at both my military and post-military career, I realized that I have only been one step away from needing assistance, whether that be physically, spiritually, mentally, or emotionally. Throughout my life, I've been lucky enough to have friends and colleagues that have always been very supportive, yet I realize that isn't the case for everyone. As I work towards entering the social work field, I hope to make a positive impact in the lives of my clients.
Experiences had while serving that are helping him now as a social work student: While serving as Company Commander, it was my responsibility to assist 200 soldiers with not solely accomplishing our mission, but also ensuring that their needs and the needs of their families were met. This was my initial introduction to social work and I find helping others fulfilling.
Military skills applied at Touro: One of the greatest skills learned in the military that I'm now leveraging in the classroom is time management. Being able to manage all coursework, a full-time job, and family life is a juggling act. Prioritizing tasks based on time requirements and importance have helped me to easily multitask while also spending quality time with my family and friends.