Where Social Work and Rabbinics Meet
LCM and GSSW Graduate Reflects On Joint Professions
June 12, 2017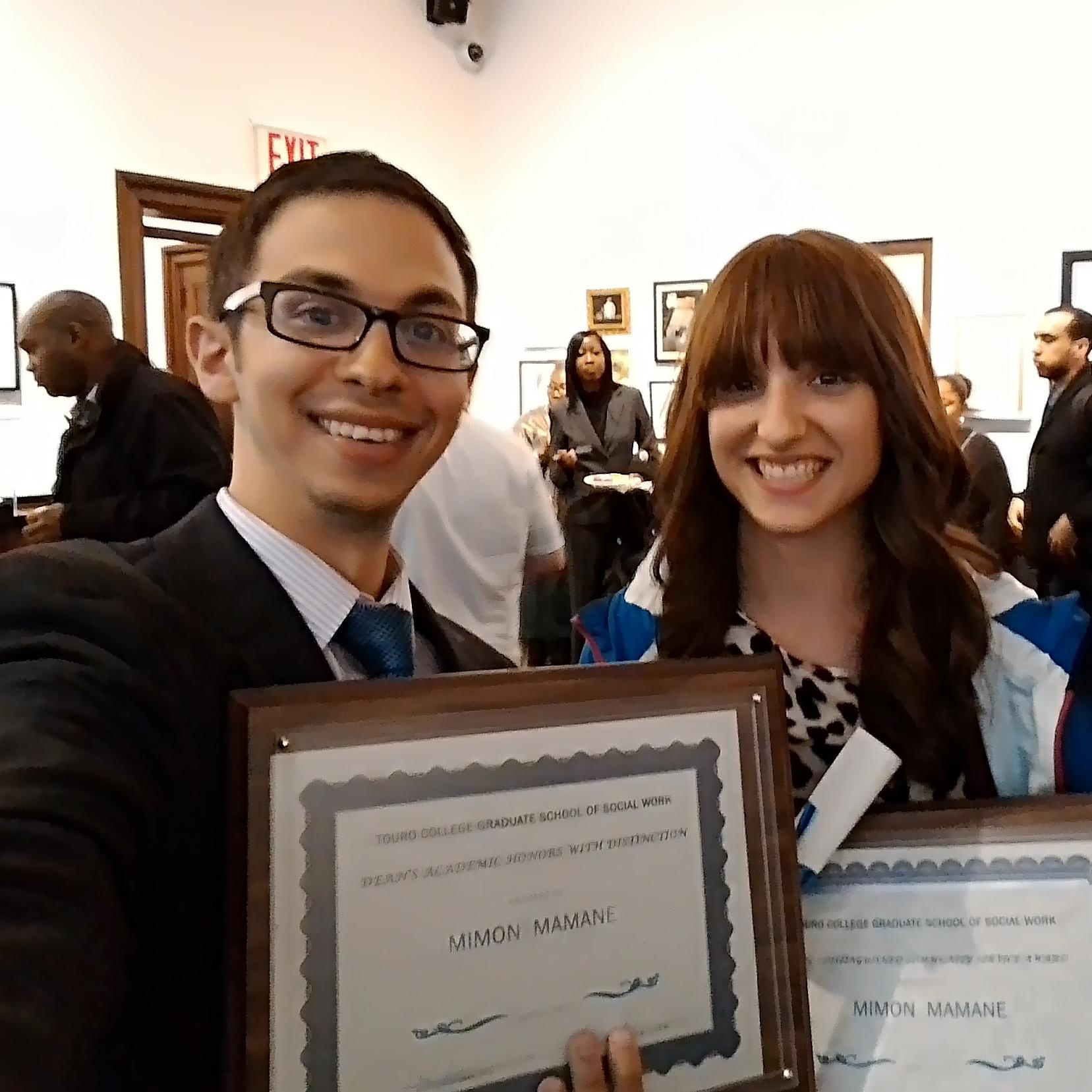 Rabbi Mimon Mamane recalls an important lesson he learned during his second-year social work internship in the inpatient neurology service of Memorial Sloan Kettering Cancer Center in New York City. He was assigned to work with a woman with a curable form of cancer. Mamane, who typically worked with patients suffering from terminal forms of brain cancer, figured that this would be one of the easier of his cases. It wasn't.
"She wanted to die," recalled Mamane, who in addition to being a social worker is the rabbi of Magen David Congregation in Manhattan. "She refused to be consoled. At the end of the day, you can't offer anything. All you can do is respond to a desire for change on a client's part. Ultimately, when a person doesn't want to be helped, you're powerless."
The contrary, he believes, is very true and that has helped guide his path: first to his bachelor's and rabbinic ordination at Lander College for Men (LCM), then a master's in Jewish studies at Touro College Graduate of Jewish Studies, and finally, his social work degree from Touro's Graduate School of Social Work (GSSW).
"All of these professions are interlocked and intertwined," stated Mamane. "A good social worker is a good teacher and vice versa. A good teacher knows how to develop close relationships and empower pupils who are in a vulnerable place. Rabbis strive to accomplish both these things and infuse them with spirituality. These professions feed and inform each other."
The Montreal-born Mamane decided to attend LCM after spending a gap year in Israel after high school.
"It was an amazing experience," elaborated Mamane about his time in LCM. "I had great relationships with my friends and rabbis. I found it very intellectually stimulating. I was in my element."
He honed his community skills at LCM, hosting meals during the school's off-weekends where he cooked for the dozens of other students who wanted to stay in the college. (Mamane is a gourmand, who been cooking since he was ten. "Youtube helped," he added.)
Mamane finished his bachelor's degree in 2013, continued on for his Master's of Jewish studies and then in 2016, enrolled in GSSW. Mamane said that the most powerful part of his experience was putting the theories he learned from class into action through the internships provided by GSSW. For his first internship, Mamane worked in a public school in Queens with adolescents at risk.
"Most of the students were living in poverty," Mamane explained. "They put up a heavy façade, declaring that school was unimportant to them, but that wasn't the case. They cared a lot about succeeding and having a better life. My role was to facilitate and help them through their struggles. I needed to be there rooting for them because many of them didn't have any support system behind them."
For his second internship, Mamane worked at Memorial Sloan Kettering Cancer Center. Mamane worked with patients suffering from various brain tumors, many of which have a high mortality rate of between 40-80 percent.
"Obviously, human beings always struggle with the thought of death, but when it becomes a reality, people have intense defenses, especially for family members who are losing their loved one," explained Mamane. "For patients facing the actual end, death can be incredibly isolating."
Mamane's main work consisted of creating safe spaces between patients and their families, especially young children, to enable them to talk about their feelings.
"It might be painful to discuss it," said Mamane, "but in the long run it's incredibly beneficial to have that conversation."
Mamane said that one of the most rewarding exchanges in his nascent career, occurred when he helped a dancer who had lost his mobility, talk to his wife about their intimacy issues.
"The patient told me at the end that he felt like I had saved his life," recalled Mamane. "It occurred to me that in many cases, it's not about what happened, it's about coming to terms with the emotional reality of whatever occurred."
In February of this year, Mamane became the rabbi of Congregation Magen David in Manhattan, the only Sephardic synagogue in Lower Manhattan. He says that in his duties he relies on what he learnt at LCM. "If I have something to say it's because I learnt it through my rabbis at LCM," he explained.
Though he has also found ways of interweaving what he learned as a social worker.
"One line I often use at the podium is this idea of always being curious and never being judgmental," said Mamane. "I tell my congregants: always question and wonder without ever invoking judgment. I encourage them to be mindful of what's happening with a kind of compassionate curiosity."